Generally, everyday employees spend around 8 hours each day seated at their desk. Therefore, the selection of office furniture is important. Bad choice of furnishes might result in work injury-related complaints. In addition, it might lead to a sharp decrease in workplace happiness and employee wellness, leading to a higher staff turnover rate.
To prevent such issues, you should invest in the modern ergonomic office furniture, which supports good posture and the wellbeing of your employees due to its innovative comfort. Some pieces like supportive keyboards, standing desks and chairs will support your employees as they work.
Here are some benefits of a comfortable and employee friendly office equipment:
Boost of productivity
The modern designers are not focusing on solid antiquated designs. Instead, they are working to produce office furniture that provides a higher level of comfort. When comfortable, an employee can perform at the optimum level and therefore increase the productivity. Even more, with pleasant and plush conference seats you will easily create a positive impression on the new and the potential clients.
Addition of aesthetic appeal
The modern piece is no longer about the sleek or slim designs solely. Manufacturers are offering furniture pieces in a variety of materials and colours. You can use exciting colours to spice up the extravagant designs to continue your office theme or to contrast it in an appropriate manner. Moreover, the wide variety of materials makes office chairs more personal and enthusiastic. All the more reasons to get rid of your office furniture.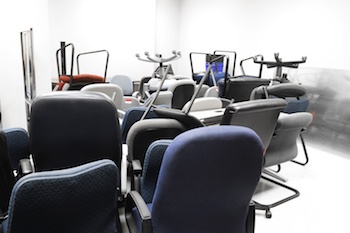 Employee turnover is catered
If an employee is uncomfortable, the level of productivity will definitely deteriorate. The modern office equipment is designed to reduce the chances of work-related injuries occurrence. Therefore, with good furniture in your office, the employee absenteeism will reduce because injury or illness cases will reduce.
Improved the wellness of employees
Additionally, it will help you improve the wellness of your employees. Wellness refers to both mental health and physical being. By investing in quality contemporary furniture, you will be sending information to your employees that their wellness is one of the factors you care about. An employee who feels that his/her employer cares about him and treats him with respect is likely to report a high rate of wellbeing and happiness in the workplace.
Reduced pain
The modern ergonomic office furniture such as standing desks, supportive keyboards and chairs will support your employees when working. Ergonomic furniture pieces work to fix the posture of employees, prevent arthritis, realign the spine and prevent work-related injuries.
Paul's Rubbish Removal can help!
By selecting the right furniture pieces for your office, you will ensure that your clients and staff are relaxed when in the work environment. Modern office furniture is worth consideration because of the associated increased comfort and aesthetic appeal.
Paul's Rubbish Removal is a friendly and fast rubbish removal service that can pick up your unwanted office keyboards, office chairs, office desks and much more for removal and disposal. Our cheap rates for hand removing your office junk is simply unmatched throughout Sydney!
Speak to our attentive staff members today at your convenience for a free quote on office furniture removal on 0407 125 125!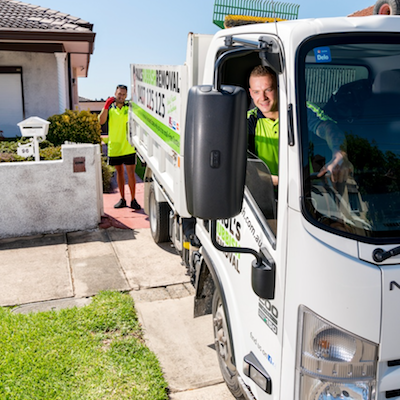 They quickly removed our heavy furniture without any hassle or questions. very professional and great customer service!
I definitely recommend choosing Paul's Rubbish Removal! They provided outstanding services and were very friendly, which was something that we did not expect! I was blown away by how quick they were able to arrive and remove the mountain of rubbish from my backyard. 5-star rating from me!
We urgently needed a clean-up service that was to be completed by 6am the next day. Paul's Rubbish Removal went out of their way to make sure that we were properly looked after and got the job done before the deadline. Many thanks!!
Wow… you guys made my life so much easier. We took a very long time searching for a good rubbish removal service in Gold Coast. So glad that we went with you guys!