Ruse Rubbish Removal
Don't look any further for quick and cheap rubbish removal! Paul's Rubbish Removal will take care of any junk removal and disposal in Ruse.
It doesn't matter what type of junk you need to get rid of in Ruse, Paul's Rubbish Removal is the team that you can trust to remove it for you. We have been an industry leader for over 10 years with a vast experience in the a multitude of removal jobs. We offer efficient and cost-effective junk removal from your office space, household, construction site, demolition site, deceased estate, end of lease, warehouse and strata.
Same-day Rubbish Removal Ruse
We offer quick rubbish removal with our special same-day removal. It is entirely possible to get rid of your unwanted items today with Paul's Rubbish Removal. Simply ask us about our same-day removal and we'll quickly arrive promptly to hand remove any junk that needs to be gone. You won't need to move a muscle, let our team of strong and experienced men handle the job. We have all the resources needed to make any job in Ruse look like a breeze.
Fast Rubbish Removal Ruse
Paul's Rubbish Removal has dealt with all types of junk to know what it takes to make it possible. Customer satisfaction is what strive for and we go beyond to ensure that you are 120% happy with our services. You will be able to reach us at all hours of the day to get the job done. We'll even clean up your site before we leave so that it is clean and presentable. Recycling and reusing is a big part of our vision. We try to avoid discarding waste to the landfill where it will pollute and harm the natural environment.
Best Price Rubbish Removal Ruse
Paul's Rubbish offers the LOWEST prices in Ruse and the entire Sydney region when it comes to complete rubbish removal. We ensure all waste is recycled or removed responsibly to ensure nothing is left lying around once our team is done.
Free Rubbish Removal Quote in Ruse
For a fast and efficient rubbish removal service, call Paul's Rubbish today on 0407 125 125. We offer a free quote with all enquiries. Alternatively, with all large jobs, we can also provide a free inspection of your property before we provide a fair and upfront quote.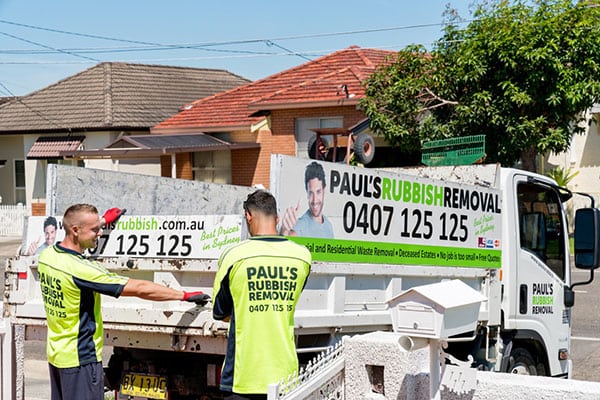 Book your service now