Commercial Strip Out and Small Demolition
GUARANTEE quality commercial strip out service!
Free Quote
Local Strip Out Service
Fast & Friendly Service
10+ Years Experience
Cheapest Prices
Always On-time
Commercial Strip Out and Small Demolition Sydney
When the end of your commercial space lease draws near, you will need to vacate the commercial premises in order to receive your bond and/or guarantee. You will usually have to reinstate the space to the condition that you initially received it in when you first began your lease. This will entail the removal and disassembling of assets, equipment, shelving, electric system and other systems depending on the contract.
A commercial space can be a warehouse, industrial site, showroom, retail shop, paint shop, body shop, office, showroom etc. In order to remove and vacate your commercial premise, you will often need the assistance of a professional strip out and removal service such as Paul's Rubbish Removal. We have highly trained workers who can safely hand dismantle your unwanted display and items for quick removal.
It is important that your commercial space is empty and clean in order to successfully obtain your bond money back and end your lease. In other cases, a complete interior strip out is necessary for a quality renovation or refurbishment. It is much easier to design and install a brand new commercial space from scratch to maintain a high level of quality throughout.
What Does a Commercial Strip Out Involve?
A commercial strip out involves the removal of any interior fixture or temporary structure in the commercial space to reveal the bare bones of the building. There are many reasons in order so, some of which includes undergoing a renovation, refurbishment or due to the end of a lease.
You can depend on Paul's Rubbish Removal to provide you with the best commercial strip out service at incredible prices. Our team will take complete care of your interior dismantling and removal according to your needs and contract terms. You can trust us to thoroughly remove any debris that results from the strip out and dispose of it accordingly. We make sure that your commercial premise is completely rubbish-free and tidy.
Our commercial strip out and removal process includes the removal of:
Commercial signs
Air conditioner, ducting and heating units
Glass (mirrors, windows)
Furniture (chairs and tables)
Partitions
Pipework (plumbing)
Electrical system (lights, dimmers, ceiling fans, cables, telephone lines)
Flooring (carpet, tile, hardwood, laminate)
Anything that you would like us to get rid of
What Does a Commercial Demolition Involve?
A commercial demolition job involves the physical breaking down of fixed structures to make available floor space. These non-temporary structures include door frames, flooring, kitchen, internal walls, non-load bearing walls, chimneys and silos.
With over 10 years of professional experience in demolition and removal work, Paul's Rubbish Removal is a respectable small demolition work provider. We carry out safe demolition work by following strict guidelines that are set out in the code of practice demolition work in NSW. We ensure the safety of our workers and the integrity of the building so that it stays in tact.
Paul's Rubbish Removal Commercial Strip Out & Demolition
For all your commercial strip out, demolition and debris removal and disposal, Paul's Rubbish Removal is the team you can rely on to complete the task. We have the most experienced workers to execute all your removal, disassembling, dismantling and small demolition jobs for your commercial premise in Sydney.
We are available 24 hours a day to speak to you about your commercial interior strip out and removal needs. We specialise in many different services under commercial including office strip out, retail strip out and industrial strip out. We also provide residential interior strip out services for homeowners in Sydney.
You can reach us on 0407 125 125 to receive a free quote from our staff members. Our qualified experts can guide you in the right direction!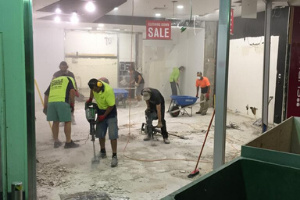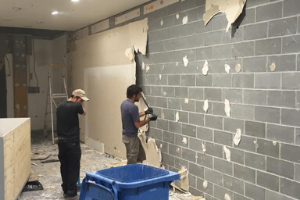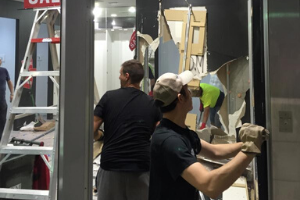 Fantastic Service, called at 10am and by 2pm the boys had quoted and completed a very large job that I had. So happy with the service, cleaned up afterwoods as well. Would highly recommend them to anyone. Fantastic.
Paul, sensational job as always, love how easy you make it look. Definitely won't hesitate in calling you again should either my family or friends need rubbish removed. Thanks again!
Call Paul today for a free quote!
We provide an end-to-end solution for house demolitions
Here's how we make retail strip out and small demolition a breeze
Extra discounts for returning customers
Free quote provided with all enquiries
No job is too large, small or difficult
Over 10 years experience in the trade
Quality strip out and demolition service
Cheapest prices in Sydney
Complete strip out
Office strip outs
Commercial strip outs
Bathroom strip outs
Kitchen strip outs
Retail strip outs