Willoughby Council
Junk Collection
The Willoughby City Council provides residents with 4 free rubbish removal per year. This includes three scheduled kerbside collection and one booked to pick up. You must book at least ten days in advance of the collection date. There are also busy periods where there may not be any availability for at least a fortnight. It is best to book a fortnight in advance to secure a free council kerbside collection.
The Willoughby City Council booked collection service is available as either a bulky household junk collection or vegetation waste collection. However, they cannot be mixed together for the booked clean up. If you would like to get rid of both, additional collection fees are required as shown.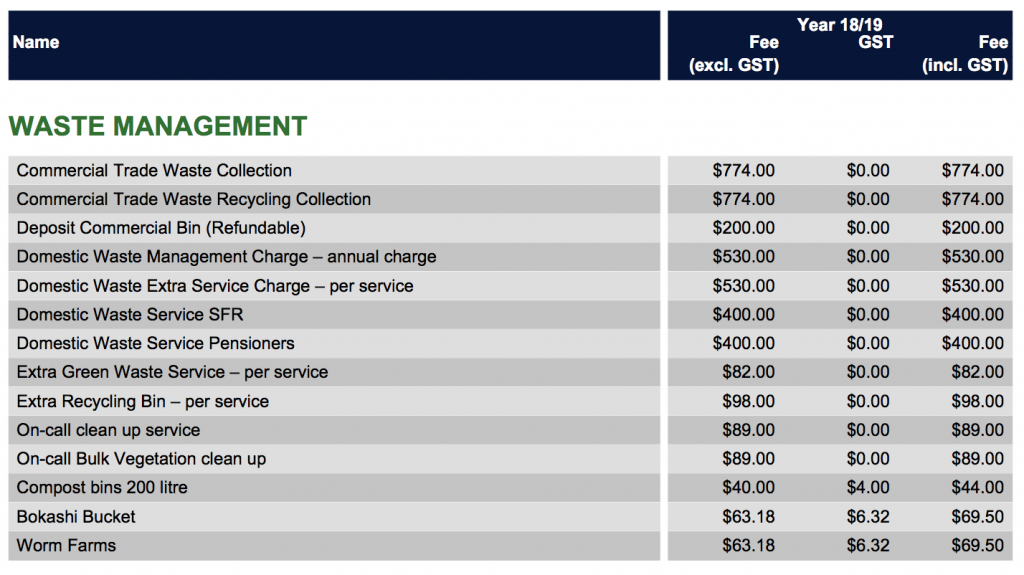 The Willoughby City Council is also strict on illegal dumping and needs residents to label their waste for both scheduled and booked council pick up to avoid being seen as illegal dumping. There are heavy consequences for the offenders and they may risk imprisonment depending on how harmful the disposed waste is.
It should be noted that your scheduled and booked kerbside pick up by the Willoughby City Council is taken straight to the landfill for disposal. Landfills are notorious for their negative impacts on the environment. Garbage that is left at a landfill to degrade releases a greenhouse gas in the form of methane. Methane is twenty times more effective in trapping heat in the atmosphere than carbon dioxide, promoting global warming.
How to prepare for Willoughby City Council kerbside pick up
When planning to get rid of large household junk with the Willoughby City Council, here is a checklist of things that you must comply with in order for a successful collection.
Your unwanted waste is accepted by the Willoughby City Council (see below)
The pile is less than 2 cubic metre in volume
Small and loose items should be in bags or boxes
Items must shorter than 1 metre in length
All white goods must have their doors removed
All items must be clearly labelled to avoid penalties from illegal dumping
The pile is not obstructing any walkway or path
Household items accepted by Willoughby City Council
The Willoughby City Council will only accept oversized household items for both scheduled and booked collections. It is important that your unwanted junk falls under one of these categories:
Furniture e.g. drawers, tables, chairs, lounge, sofa, wardrobe
Electronic waste e.g. television, computer, phone
White goods and appliances e.g. fridge, oven, washing machine
Carpet (must be rolled and shorter than 1 metre)
Soft furnishing
Non-recyclable household items
For booked vegetation waste collection, ensure that they are bundled up and tied as best as possible. It is important that each of your garden waste should be shorter than 1 metre in length. The Willoughby City Council will accept:
Tree loppings
Untreated timber
Real Christmas trees
Fence palings with nails removed
Household items not accepted by Willoughby City Council
Hazardous waste e.g. gas bottles, asbestos, paint, oil, chemicals
Items longer than 1 metre
Mattresses
Building materials e.g. bricks, tiles, concrete
Car parts e.g. tyres, engine
With all city councils in Sydney, some restrictions prevent them from accepting your unwanted household waste. This is because the landfills will not accept them due to the detrimental effects that these waste can have on the environment. For the disposal of hazardous waste in the Willoughby City Council district, you should take it to the nearest Community Recycling Centre (CRC).
Which suburbs does Willoughby City Council cover?
The Willoughby City Council covers 15 suburbs and an area of approximately 22.6 km squared with a population of over 74,000 (2016 census).
Castlecrag
Chatswood West (shared with City of Ryde)
East Willoughby
Gore Hill (shared with Municipality of Lane Cove)
Middle Cove
Lane Cove North (shared with Municipality of Lane Cove)
North Willoughby
Roseville (shared with Ku-ring-gai Council)
St Leonards (shared with Municipality of Lane Cove and North Sydney Council)
Willoughby
The convenient alternative
With limited availability in booking schedules and long wait times, your best choice is to pick Paul's Rubbish Removal. We are quick and easy to use for all your general household waste, rubbish and junk disposal. Instead of booking ten days in advanced like the Willoughby City Council requirements, you can book with Paul in a few hours.
Our same-day rubbish removal means that we'll attend your home on the same day that you call us. On top of that, we'll hand remove your unwanted junk. Whether it'd be garden waste or general home waste that you need to get rid of, let our team handle it for you. We accept a lot more rubbish than the council does.
For over a decade, we have been the perfect solution for all types of rubbish removal in Sydney. We are the experts in junk removal. There are no volume restrictions on our services. Big or small, we'll take it all.
Contact Paul today on 0407 125 125 to get all your unwanted household junk disposed of immediately!