Bexley Rubbish Removal
Why go anywhere else for cheap rubbish removal in Bexley than to Paul's Rubbish Removal?
We've got the cheapest rubbish removal rates anywhere in Bexley guaranteed! Mattresses, old furniture, broken electronic goods, refrigerators or even garden waste, we'll take it all and dispose of it properly. You can bet that you will be well taken care of with our team who has over 10 years of professional industry experience. There is no removal job that our team at Paul's Rubbish Removal can't handle during our time of operation.
24-Hour Rubbish Removal Bexley
We work day and night, 24 hours a day, 7 days a week. Our team is also flexible to attend your site at any time during the day or night to hand remove your junk directly and throw them onto our trucks for quick removal. On top of this, we offer same-day service to immediately dispatch our closest team to your site in Bexley to get your situation sorted. This means that within 24 hours of contacting us, we'll be there cleaning up your site.
Bexley Rubbish Removal Recycling
Proper rubbish disposal is also our big concern as an industry leader. Recycling makes a massive difference in the world and it begins from your household. Taking early steps in preventing pollution is key to reducing the amount of waste in the environment and address the issue of global warming. At Paul's Rubbish Removal, we always look to recycle our waste instead of dumping it at a landfill where it will rot and pollute.
Get a Free Rubbish Removal Quote in Bexley Today
If you have household, commercial, office, construction site, demolition site, deceased estate, end of lease or apartment rubbish that needs to be disposed of properly via recycling then call Paul's Rubbish Removal on 0407 125 125. Have a peace of mind and know that we will always look for innovative ways to provide rubbish a new life. Don't wait any longer, get Paul and his team to your Bexley site today!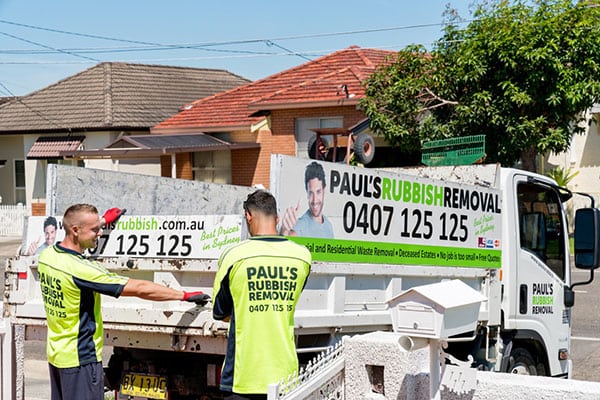 Book your service now