Kensington Rubbish Removal
Under a mountain of rubbish you immediately need to remove? Looking for a reliable rubbish removalist in Kensington but don't know who to choose? Paul's Rubbish Removal is the team to call!
Paul's Rubbish Removal are your local rubbish removalists in Kensington. With a combined total years of experience in the trade, Paul and the team have completed hundreds of rubbish removal jobs of all sizes. From messy demolition sites to cleaning up piles of junk in residential households, we've done it!
Trusted Rubbish Removalists in Kensington
At Paul's Rubbish, we value customer service and the effectiveness of our jobs. We will never leave your property with junk still lying around. We offer a 100% satisfaction guarantee with all our jobs. This is because we're confident of our service as well as our ability to get the job done right.
Our teams work around the clock in Kensington to ensure we're always there when you need us. We work on flexible hours and can work with you to accommodate to a time which suits you best. We're trusted rubbish removalists in Kensington out to make a difference.
Rubbish Removal Services in Kensington
We at Paul's Rubbish offer some of the best prices in Kensington and Sydney. Our rubbish removal solutions are cheap and affordable with most jobs available for instant quoting.
Some of our rubbish removal services in Kensington include complete residential household rubbish removal, clean-ups of office buildings and also catering to demolition and construction sites.
Book Paul's Rubbish Removal in Kensington by calling 0407 125 125
No matter how big or small the job you can trust Paul and his team will get the job done. If you require a rubbish removal service in Kensington, simply call Paul today for an instant free quote on 0407 125 125
If you're not located in Kensington but reside in a nearby suburb, give us a call and have a chat with our staff about what we can do for you. Suburbs we also service include: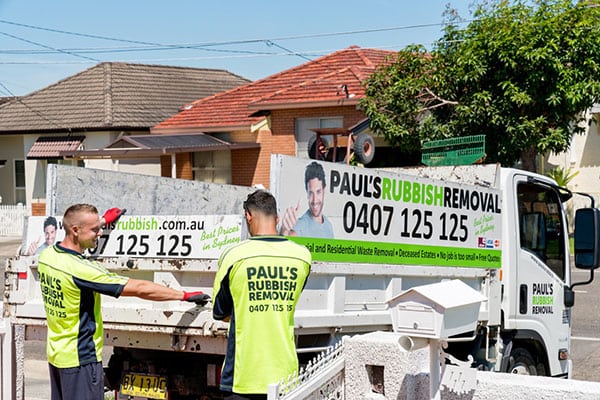 Book your service now