Baulkham Hills Rubbish, Junk & Waste Removal
Sarah Ann
2019-07-31T13:52:24+11:00
Baulkham Hills Rubbish Removal
Is your Baulkham Hills home piled up with rubbish? Managing an office building and require a professional rubbish removalists to clean the office after hours? Paul's Rubbish Removal are the team to call.
Paul's Rubbish Removal are your local Baulkham Hills rubbish removalists. We service the entire Baulkham Hills and Hills district region and are always looking to provide total excellence in all our rubbish removal jobs.
Our staff are professional and friendly with years of industry experience backed behind their belts. We know the ins-and-outs of the trade and will always ensure your property is left looking like new after you've cleaned it up.
Most Trusted Rubbish Removalist in Baulkham Hills
We've been servicing Baulkham Hills and all its surrounding suburbs for the past 5 years. We understand the value of providing a quality service to local residents. We're your most trusted rubbish removalists in Baulkham Hills. When you call Paul, you can be sure you'll be receiving a 100% satisfaction guarantee once we're done.
Rubbish Baulkham Hills Rubbish Removal
Paul's Rubbish Removal provides a range of rubbish removal services to Baulkham Hills and its surrounding suburbs.
We remove large quantities of rubbish from construction sites, household properties and commercial office buildings. For a free quote on any of our selected services, please call us on 0407 125 125
Book Paul's Rubbish Removal in Baulkham Hills
Working with us has never been easier. Simply call Paul on 0407 125 125 and request your obligation-free quote. We'll either provide you with an instant quote or provide you with the quote upon a free inspection.
If you reside in Baulkham Hills, call us today!
Not only do we provide rubbish removal services to Baulkham Hills, we also service the following nearby suburbs and more!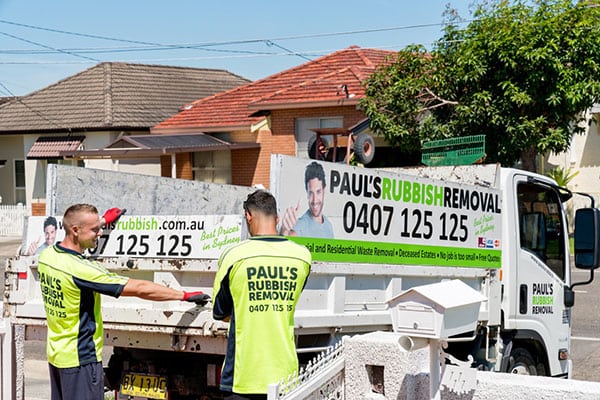 Book your service now