Kellyville Rubbish, Junk & Waste Removal
Sarah Ann
2019-07-31T13:53:52+10:00
Kellyville Rubbish Removal
Looking for the best prices in Kellyville for a quick rubbish removal job? Our team from Paul's Rubbish Removal can help!
We are able to attend your site at Kellyville TODAY to help you clear out that rubbish mess. We offer same-day rubbish removal if you call us now. No matter how large the job is, we are here to help! We have been in the business for more than a decade. Our experienced team can tackle even the most extreme tasks that would otherwise be too time-consuming for you. They will hand-load all your rubbish onto our trucks for deportation.
Fast Rubbish Removal Kellyville
Get Paul to come out to your site today for a hassle-free rubbish removal in Kellyville. We work at all hours of the day so that your rubbish is removed quickly. Our competitively low price makes us highly desirable by Sydney residents for their rubbish removal. Getting rid of your junk has never been any easier! Give Paul a call now.
Best Price Rubbish Removal Kellyville
Paul's Rubbish offers the LOWEST prices in Kellyville and the entire Sydney region when it comes to complete rubbish disposal. We ensure all waste is recycled or removed responsibly to ensure nothing is left lying around once our team is done.
Free Rubbish Removal Quote in Kellyville
For a fast and efficient rubbish removal service, call Paul's Rubbish today on 0407 125 125. We offer a free quote with all enquiries. Alternatively, with all large jobs, we can also provide a free inspection of your property before we provide a fair and upfront quote.
Common types of rubbish and waste we remove include: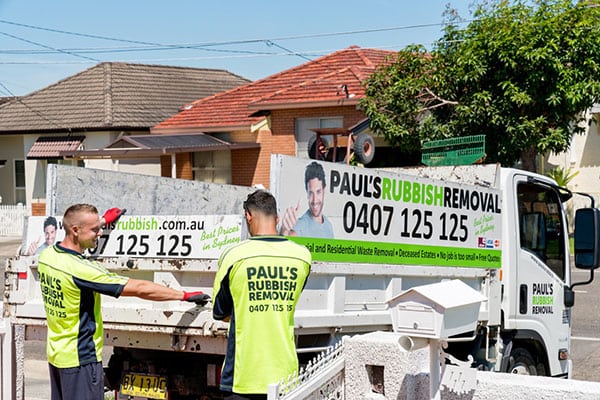 Book your service now