The Bin Stuffing Menace
There is probably nothing as annoying as having your bin stuffed. Imagine going to take out the trash only to find it full of some stranger's garbage. It could be anything from dog walkers leaving their stinky poop to neighbours who aren't interested in getting their rubbish collected.
It is one of those seemingly petty things that could ruin your day. Or maybe, you are the bin stuffing bandit. You do it because you don't really think there is a problem there. After all, it's just trash, right? I mean no one is getting hurt. So you have no problem doing it if there is space in your neighbour's bin.
What exactly does the law say?
These are 2 extremely different points of view. And I can honestly say that I have only come across a few arguments that evoke as much passion and emotion as this one does. Maybe the pineapples-on-pizza argument stands a chance. So before we get all riled up let's first see what the law says about this habit.
Unfortunately for bin owners, stuffing is not illegal in Australia. So you cannot have your neighbour prosecuted despite the inconvenience caused. For bin stuffers, on the other hand, the habit is generally considered super shady. You might not get in trouble with the law but it is unethical and might get you ostracised by your neighbours.
4 Ways to Protect your Bins from Stuffers
Keep them hidden
If your trash is collected on specific days of the week, there is no need to keep the bins exposed. Have them tucked away somewhere until collection day when you can roll them out.
Use a lid
Yep; a simple lid. It doesn't even have to have any special abilities like Thor's hammer that only he can lift. Just any simple old bin lid. There is something about this simple tactic that stops many bin stuffers from leaving trash in their neighbour's bins. It won't work all the time but it is definitely worth a try.
Invest in bin locks
If the simple lid trick doesn't work then you might have to bring in the big guns. Not literal guns; let's not get excited. I mean bin locks. These are special locks that pretty much lock the trash can and prevent access to people who do not have a key.
Leave a warning
Some bin stuffers do it because they don't know how much it annoys you. It, therefore, doesn't hurt to make your displeasure known. A simple note explaining this should do.
The Importance of Investing in Great Trash Removal – Give Us a Call Today!
For bin stuffers, the solution is simple. Just hire an affordable trash removal. This will ensure that you get rid of all your garbage without having to sneak over to your neighbour's bin when they are asleep or away. We offer the cheapest rubbish removal in Sydney for residents with an abundance of rubbish. Contact Paul's Rubbish Removal on 0407 125 125. We'll hand remove all your rubbish for you!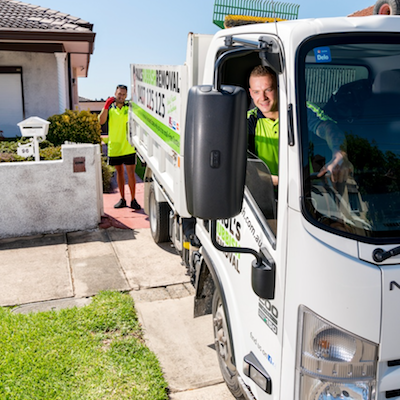 They quickly removed our heavy furniture without any hassle or questions. very professional and great customer service!
I definitely recommend choosing Paul's Rubbish Removal! They provided outstanding services and were very friendly, which was something that we did not expect! I was blown away by how quick they were able to arrive and remove the mountain of rubbish from my backyard. 5-star rating from me!
We urgently needed a clean-up service that was to be completed by 6am the next day. Paul's Rubbish Removal went out of their way to make sure that we were properly looked after and got the job done before the deadline. Many thanks!!
Wow… you guys made my life so much easier. We took a very long time searching for a good rubbish removal service in Gold Coast. So glad that we went with you guys!