Campbelltown Rubbish, Junk & Waste Removal
Sarah Ann
2020-02-24T13:19:32+11:00
Campbelltown Rubbish Removal
Got a rubbish removal job in Campbelltown that seems too daunting? Paul's Rubbish Removal can get the job done!
We can provide you with the BEST price for all your rubbish removal in Campbelltown and neighbouring suburbs. You can expect us to deliver you the best service in the industry. We offer same-day removal which means that you don't have to sit around waiting all day. We will arrive at your site with our pickup truck and hand load all your rubbish. You will be happy to know that you can give your quote within 15 minutes for FREE. Our goal is to provide Sydney-siders with the best trash removal service.
Campbelltown Quick and Cheap Junk Removal
Paul's Rubbish Removal business has over 10 years of experience in removing all types of trash in Sydney. Our friendly and professional team will ensure that all your rubbish is discarded quickly and efficiently. We also make sure that all of our rubbish is disposed of and recycled in the most eco-friendly way possible. We believe that our green approach is very important to protect our environment for future generations.
We Offer the Best Price Rubbish Removal Campbelltown
Paul's Rubbish offers some of the best prices in Campbelltown and the entire Sydney region when it comes to complete rubbish removal solutions. We ensure all waste is recycled or removed responsibly to ensure nothing is left lying around once our team is done.
Free Rubbish Removal Quote in Campbelltown
For a fast and efficient rubbish removal service, call Paul's Rubbish today on 0407 125 125. We offer a free quote with all enquiries. Alternatively, with all large jobs, we can also provide a free inspection of your property before we provide a fair and upfront quote.
Common types of rubbish and waste we remove include: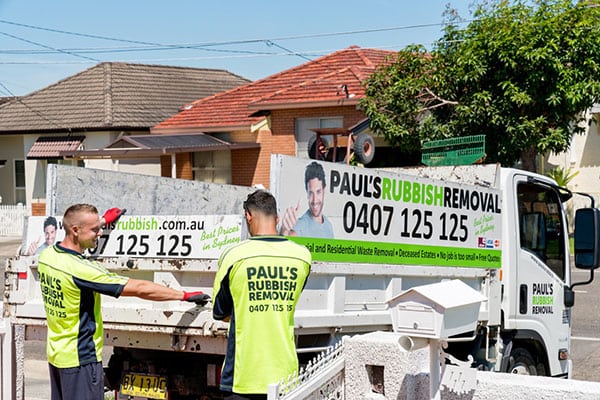 Book your service now

Frequently Asked Questions
Do you remove demolition waste in Campbelltown?
Yes. Our team at Paul's Rubbish Removal can remove and load basically everything from your demolition site onto our trucks for proper disposal.
Is there any rubbish you can't take?
We provide a complete rubbish removal service for your home or business. From old furnitures to green waste or any other type of rubbish, Paul's Rubbish Removal is your go to company for a fast and hassle-free rubbish collection service in Campbelltown.
How do you calculate your prices?
Paul's Rubbish Removal offers the cheapest rubbish removal rates in Campbelltown. We calculate our prices based on the job site's location, time and work involved and removal costs (tipping charges).
How can I pay for my rubbish removal services?
You can make payments on your rubbish removal services to Pauls Rubbish Removal by cash or credit card.
Do you pickup on weekends?
Yes. For a free quote on any of our rubbish removal services in Campbelltown, simply give us a call and one our friendly staff will gladly assist you.