Leumeah Rubbish Removal
Not sure how to get rid of all that mess in Leumeah? Paul's Rubbish Removal is the one and only solution to your junk problem.
We know that hoarding items and collectibles are something each of us do best. But often times, it is a lot better to clear out the mess and get rid of it to make room for better thing. Many residents in Leumeah are approaching a zero-waste lifestyle and so should you. Paul's Rubbish Removal is dedicated to helping residents remove and dispose of your unwanted items. Household rubbish, construction waste, demolition waste, deceased estate cleanup, end of lease removal, these are just some of the amazing services we provide.
Cheap Rubbish Removal Leumeah
Paul's Rubbish Removal is committed to safe and responsible disposal. We take every take to ensure that our junk and waste does not harm the environment and recycle unused items if possible. Our 10+ years of experience team are capable of any removal task no matter how big or small the job. Each job is unique in some aspect, yet we have developed and experienced a wide range of rubbish removal situation that we are no stranger.
Fast Rubbish Removal Leumeah
We also offer same-day quick rubbish removal to swiftly collect your junk at your convenience. You just let us know when is the best time for you! This means that our team will arrive at your doorsteps anywhere in Leumeah with our loading truck, ready to pick up and take anything that you need to be gone. Just point and tell us which item is rubbish and we'll handle the rest for you. Paul's Rubbish Removal work around the clock to ensure that we are flexible to assist you with any trash removal.
Best Price Rubbish Removal Leumeah
Paul's Rubbish offers the LOWEST prices in Leumeah and the entire Sydney region when it comes to complete rubbish removal. We ensure all waste is recycled or removed responsibly to ensure nothing is left lying around once our team is done.
Free Rubbish Removal Quote in Leumeah
For a fast and efficient rubbish removal service, call Paul's Rubbish today on 0407 125 125. We offer a free quote with all enquiries. Alternatively, with all large jobs, we can also provide a free inspection of your property before we provide a fair and upfront quote.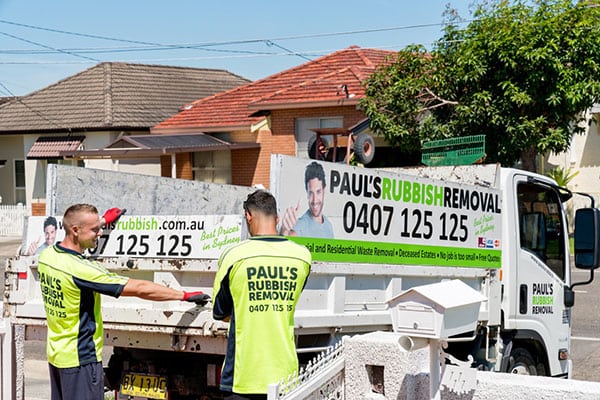 Book your service now