Marrickville Rubbish Removal
In search of an experienced company in Marrickville providing rubbish removal services? Look no further than Paul's Rubbish Removal!
Paul and the team of highly trained and experienced rubbish removalists are your local Marrickville rubbish removalists. For the past 5 years, Paul's Rubbish have provided quality rubbish removal services to Marrickville and all its nearby suburbs. We have a dedicated team of professionals who pride ourselves on our ability to clean-up large quantities of garbage and junk – no matter how big the job may be!
Reliable & Experienced Rubbish Removalists in Marrickville
At Paul's Rubbish, we're known for our ability to always to arrive on-time and ready to have your site cleaned-up. We follow all OH&S regulations and have a total combined years of experience which exceed over 10 years. To put it simply, our rubbish removalists in Marrickville have most likely seen it all!
From residential household rooms being buried in useless junk to cleaning up a field of demolition waste, we've always got the job tidied up!
Trusted Marrickville Rubbish Removal
We provide three types of rubbish removal services in Marrickville. Sites we cater to include your usual residential households, large office buildings and messy demolition sites.
If you're suffering from an abundance of junk and rubbish, it's time to call Paul!
Best Price Rubbish Removal Marrickville
Getting your place cleaned-up has never been easier. Whether your household rooms are piled up with rubbish or you require a complete clean-up after a demolition job, Paul's Rubbish is the team to call!
For a free quote on any of our thrash removal services, simply give us a call on 0407 125 125
Other suburbs we service also include: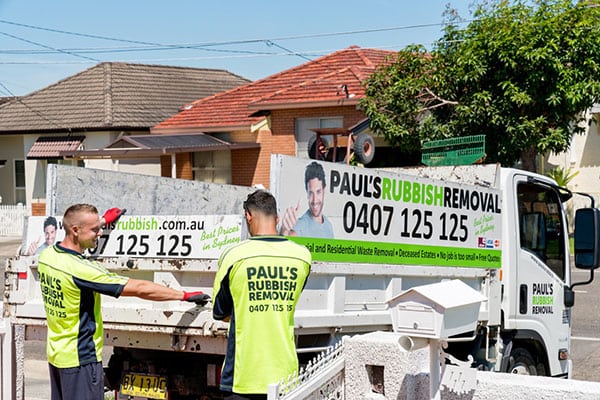 Book your service now