Cremorne Rubbish Removal
Looking for a reliable rubbish remover in Cremorne? Paul's Rubbish Removal are the team to call!
Paul's Rubbish Removal are Cremorne local rubbish removal services providers. We are a group of experienced professionals backed by more than a decade of industry experience. We have completed hundreds of assignments across Cremorne and we have done a good job. We are apprised of quality, affordable and reliable services and our customer's testimonials can attest to that.
From demolition sites to a household full of junk we clean them all, additionally we also clean up townhouses, duplexes, residential houses, offices, commercial buildings and flats.
Common types of rubbish and junk we take include:
Reliable Rubbish Removal Services in Cremorne
You would not like to call up a cleanup team and find out that they have done a messy job. That would be a waste of time and money, at Paul's Rubbish Removal, we are always up to the task and we do a comprehensive job to meet our client needs.
We offer our customers with a 100% guarantee of quality with all our jobs. This is because apart from being reliable, we are also confident in our ability to get the job done in the right way.
Timely Rubbish Removal Services in Cremorne
We operate on a flexible schedule that can fit into yours. If you have a tight schedule, we can work for you whichever time you feel suits you. Our team works around the clock and is always on standby waiting for your call. Once you call us, we always ensure that we get the job done in a timely manner to avoid inconveniencing you.
Why Choose Paul's Rubbish Removal Services in Cremorne
Our reputation in Cremorne as rubbish removers precedes us, this is because:
We offer a discount to return customers
We are available around the clock – 7 days a week
We offer a free quote with all service enquiries
We only hire the best
We offer all types of rubbish removal
Book a Rubbish Removal Service in Cremorne
At Paul's Rubbish Removal, we make it our mission to ensure you're 100% satisfied with all rubbish removal jobs completed. Simply call us for a free quote today on 0407 125 125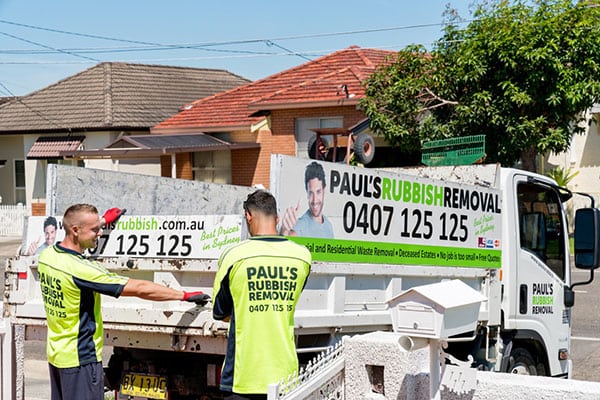 Book your service now