St Ives Rubbish Removal
Are you seeking quick and cheap rubbish removal in St Ives? Paul's Rubbish Removal offers the cheapest rubbish removal of all types in Sydney!
Fridges, cupboards, sofas, wardrobes, office chairs, sand, hoarded rubbish, furniture, white goods, old mattresses, we'll pick up and dispose of them for you. Paul's Rubbish Removal has been well-established with over 10 years of professional experience. We are the experts in removing all things rubbish. We service all locations in Sydney including St Ives and neighbouring suburbs.
For the cheapest rubbish removal St Ives
We'll arrive promptly at your St Ives site with the resources to handle any removal job, big or small. Paul's Rubbish Removal will load your rubbish from construction sites, deceased estates, households, warehouses, offices and demolition sites. Our green initiative means that we responsibly recycle and reuse any junk that is thrown away instead of diverting it to the landfill if possible. This way, they won't end up sitting in a landfill to rot and release harmful greenhouse gas into the atmosphere.
Quick, punctual rubbish removal St Ives
Paul's Rubbish Removal is also committed to providing you as the customers with the best value. Our goal is to help Sydney residents responsibly dispose of their rubbish to avoid illegal dumping and help create a clean and bright future. Part of our exceptional services is to offer you with immediate rubbish pick up with Paul's same-day removal. Within 24 hours, our team will arrive at your front door in St Ives to hand load your unwanted junk onto our trucks for removal.
Call today for a free rubbish removal quote in St Ives
Don't leave that pile of rubbish any more unattended attention, get rid of it today with Paul's Rubbish Removal. Our reliable, convenient and quick rubbish removal means that you will have one less thing to worry about. Our amazing customer service will leave you with a spotless and clean area. Kindly call us any time at your convenience on 0407 125 125 to arrange a time and date for us to pick up your rubbish.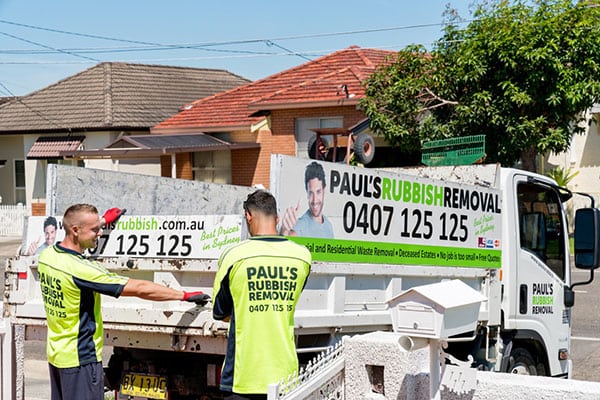 Book your service now