Catherine Field Rubbish Removal
Do you have junk in Catherine Field that needs to be removed immediately? Contact Paul's Rubbish Removal to the cheapest rates!
We believe that getting rid of your old junk in Catherine Field shouldn't be a hassle. Our team at Paul's Rubbish Removal makes your life easy. We do all the heavy lifting and carrying by hand loading your rubbish onto our pickup truck. We have over 10 years of experience in collecting junk in Sydney that it will be hard to beat our efficient and cheap services. Our desire is to give you the ultimate junk clearing service in the Sydney metropolitan.
Catherine Field Cheap Rubbish Removal
Whether you have a large job on a construction site or a small job at home, Paul's Rubbish Removal will come to you in Catherine Field. There isn't any job that we can't do. We do this at incredibly cheap rates. Best of all, we come to you on the same day as you call us! Don't stress over urgent removal, we got you covered.
We Offer the Best Price Rubbish Removal Catherine Field
Paul's Rubbish offers some of the best prices in Catherine Field and the entire Sydney region when it comes to complete rubbish removal solutions. We ensure all waste is recycled or removed responsibly to ensure nothing is left lying around once our team is done.
Free Rubbish Removal Quote in Catherine Field
For a fast and efficient rubbish removal service, call Paul's Rubbish today on 0407 125 125. We offer a free quote with all enquiries. Alternatively, with all large jobs, we can also provide a free inspection of your property before we provide a fair and upfront quote.
Common types of rubbish and waste we remove include: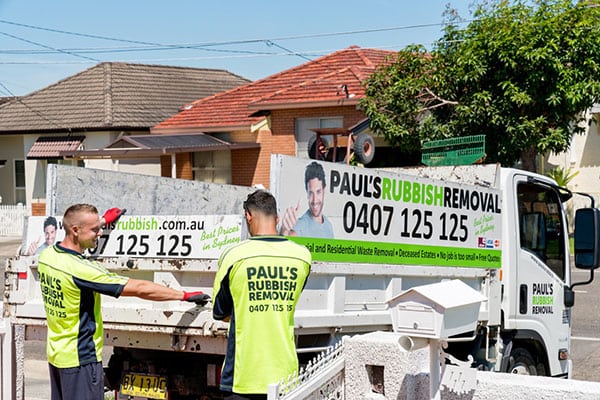 Book your service now