Parramatta Rubbish, Junk & Waste Removal
Sarah Ann
2019-07-31T14:12:34+10:00
Parramatta Rubbish Removal
Got junk that needs to be removed in Parramatta at affordable prices? Paul's Rubbish Removal has you covered!
Paul's Rubbish Removal has been removing junk across Parramatta for over 10 years. Our experienced team has tackled every type of rubbish job imaginable at places such as construction sites, households, demolition sites, deceased estates, real estates and commercial offices. There has not been a job that Paul and his team could not handle in Parramatta. We remove nearly everything from old mattresses to green waste such as large timber logs, stumps, leaves, soil, sand. Please contact Paul on 0407 125 125 for more information on the items we pick up.
Parramatta's Cheapest Junk Removal
Paul's Rubbish Removal is known for providing the most affordable rubbish and junk removal in Parramatta and surrounding suburbs. Our experience has allowed us to develop the most efficient techniques for rubbish removal which reduces the time required for us to attend the site. We have a team of strong and reliable men to carry out the removal task. Whether it is an old white good such as a refrigerator or a washing machine that needs removal, we are well equipped to get rid of it for you once and for all.
Fast Rubbish Removal Parramatta
We provide fast and efficient junk removal for your site in Parramatta. At Paul's Rubbish Removal, we offer same-day removal for the best services in rubbish removal. This means that we're guaranteed to attend your site within 24 hours to clear out your junk. We are also known for our reliable on-time arrival to ensure that you won't have to stick around long enough for the grass to grow. Our experienced team will be in and out of your site before you know it along with all your undesired debris.
Best Price Rubbish Removal Parramatta
Paul's Rubbish offers the BEST prices in Parramatta and the entire Sydney region when it comes to complete rubbish removal. We ensure all waste is recycled or removed responsibly to ensure nothing is left lying around once our team is done.
Free Rubbish Removal Quote in Parramatta
For a fast and efficient rubbish removal service, call Paul's Rubbish today on 0407 125 125. We offer a free quote with all enquiries. Alternatively, with all large jobs, we can also provide a free inspection of your property before we provide a fair and upfront quote. Get in contact with our quick communication staff members today!
Common types of rubbish and waste we remove include: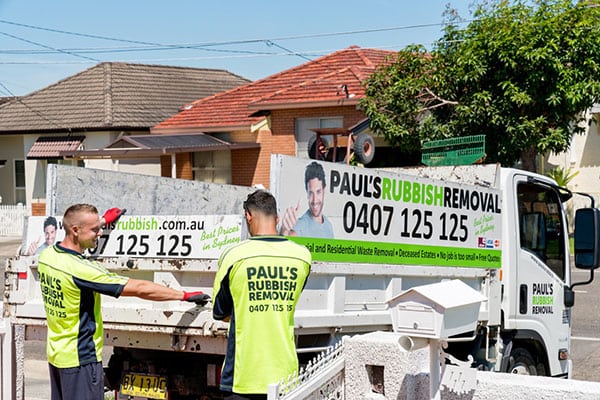 Book your service now