Harris Park Rubbish Removal
Finding it difficult to get rid of household furniture in Harris Park? Paul's Rubbish Removal can help you remove and dispose of it efficiently!
There is nothing that Paul's Rubbish Removal team can't remove. You name it, we'll remove it for you. We have been clearing rubbish from Harris Park and neighbouring suburbs for over 10 years. So we know what it takes to completely throw away household, office, commercial, construction, demolition and deceased estate waste.
Don't hesitate to pick Paul's reliable Rubbish Removal services. We are proactively engaged in a recycling program to make a difference in the world.
Environmentally-friendly Rubbish Disposal Harris Park
When you pick Paul's Rubbish Removal, you are choosing to dispose of your rubbish in an environmentally-friendly way. This helps protect the environment from waste and hazardous liquid from entering our water streams.
Global warming has become a major topic in the recent years and requires urgent attention. It is our job to provide you with the removal services and educate you how to safely dispose of rubbish. Instead of dumping your rubbish in the nearest dump tip in Harris Park, get us to recycle it!
Cheap Rubbish Removal Harris Park
We provide cheap and efficient rubbish removal in Harris Park on all types of junk such as old bed frames, refrigerators, garden waste and furniture. Our team are available 24-hour to fit into your schedule to get the job underway.
We're flexible to arrange a date and time to clear out your space in Harris Park no matter what it is. You won't need to do anything, simply call us and our team will safely remove the unwanted junk from inside your building and load it onto our trucks for disposal.
Free Quote for Any Rubbish Removal in Harris Park
Please do not hesitate to call Paul's Rubbish Removal today at your earliest convenience so we can get started. You can reach via our phone on 0407 125 125 or through our email at info@paulsrubbish.com.au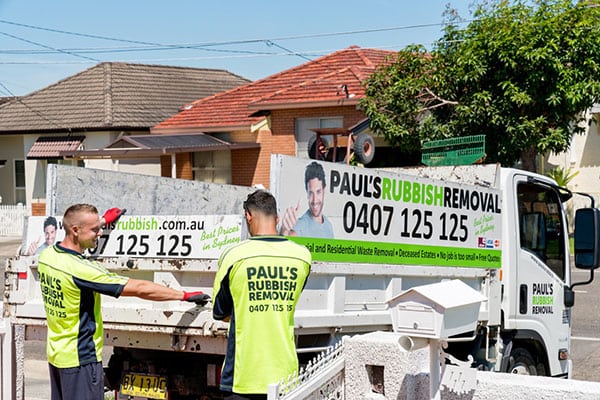 Book your service now