One of the most common occurrence in offices is that rubbish accumulates and buildup. When a business is growing, there is a need for rearrangement or relocation to a bigger office. As a result, it becomes very important to hire a rubbish removal service to assist you in the removal of your office junk. We have identified and examined the 5 types of office junk.
Computer recycling
When the office computers become broken and obsolete, you don't necessarily have to throw them in the trash. However, there are numerous ways of recycling computers such as salvage parts, repurposing or recycling of individual materials. The disposal process begins like any other junk removal process, only that the device passes through stages of sorting as well as recycling. In some cases, broken monitors can have many working parts which can be re-used in fixing other broken computers.
Printer recycling    
Printer recycling has become very important today due to the many shiny new gadgets popping up in markets every day. Printer recycling is known to extract some precious earth metals as well as plastics which are short in supply. All these can be re-used in other devices after purification. Generally, most printers contain materials like mercury, lead, lithium ion, chromium, cadmium and radioactive isotopes which can harm the environment if it is not properly disposed of.
Office furniture
Both old and broken office furniture needs to be hauled off and disposed of. Nobody really wants to handle this task involving heavy pieces alone. However, the fact remains that either office relocation or even replacing the existing furniture is a challenge. For this, you will need to hire a junk removal company to ensure that your office furniture is disposed of in an environmentally friendly way. It's also very difficult to recycle the office furniture due to the mixed materials used during the making process. A single piece of furniture may have metal, treated wood and plastic. In order to recycle them, all these materials need to be separated first.
Office electronics
Due to technological advancements, it means that we end up with broken electronics which we need to get rid of. However, this isn't just throwing them in the garbage. This is because the items contain some dangerous materials and should be disposed of properly or recycled to prevent damaging our environment. You will need to take them to a local recycling centre or hire a rubbish removalist who is able to send your electronic goods to be refurbished or recycled properly.
Pallet removal
Disposing of all unwanted pallets remain a major problem for many businesses since their storage areas, back rooms and garbage bins fill up with the broken or empty platforms. Some of the reasons why pallet junk accumulates are because they are poor in quality, small quantities, local market dynamics and unusual sizes.
Trustable Rubbish Removal Service
If you're a residence living in Sydney and you're in need of a rubbish removal company to remove and collect any of the office junk that we have discussed, contact Paul's Rubbish Removal. Our friendly and strong team will haul all of your office junk at an incredibly low price. Receive a FREE quote today and call 0407 125 125 for your office garbage removal.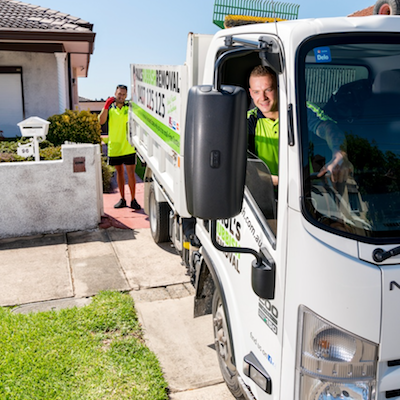 They quickly removed our heavy furniture without any hassle or questions. very professional and great customer service!
I definitely recommend choosing Paul's Rubbish Removal! They provided outstanding services and were very friendly, which was something that we did not expect! I was blown away by how quick they were able to arrive and remove the mountain of rubbish from my backyard. 5-star rating from me!
We urgently needed a clean-up service that was to be completed by 6am the next day. Paul's Rubbish Removal went out of their way to make sure that we were properly looked after and got the job done before the deadline. Many thanks!!
Wow… you guys made my life so much easier. We took a very long time searching for a good rubbish removal service in Gold Coast. So glad that we went with you guys!