Electronics (E-Waste) Removal
GUARANTEE same-day rubbish removal!
Free Quote
Local Rubbish Service
Fast & Friendly Service
10+ Years Experience
Cheapest Prices
Always On-time
Electronics (E-Waste) Removal
GUARANTEE same-day rubbish removal!
Free Quote
Local Rubbish Service
Fast & Friendly Service
10+ Years Experience
Cheapest Prices
Always On-time
Sydney Electronics Removal
Do you have electronic waste in your house or office that needs to be removed? If yes then you have just landed in the right place!
At Paul's Rubbish Removal we are committed to helping our customers in Sydney to safely and properly dispose of all electronic waste. We have been in this industry for over a decade and we understand the local needs better than any other company. We understand that getting rid of electronic waste is not easy especially if you have a very busy working schedule.
24/7 Electronic Waste Removal Sydney
Paul's Rubbish Removal is a very reliable and flexible removal service. We are able to collect your electronic devices at any time from anywhere in Sydney. We work day and night, 24 hours a day to work around your busy day. You don't even have to be there for us to do our job. As long as we have access to the trash, we are able to take it from you.
Fast Electronic Junk Removal Sydney
Don't risk your health by doing simple chores such as lifting and moving your electronic waste. Get Paul and his professional team to do it! We offer same-day removal for all your urgent requests. This means that we are able to attend your site today in Sydney to quickly take your electronic goods immediately, no questions asked.
Best Price Electronic Removal Sydney
Before you dump any electronic waste, you need to sort them out in a trash bag before dropping them off at the proper facility. To most people in Sydney, this is a loss of precious time that they would rather utilise to use other productive things. When you hire Paul's Rubbish Removal, we will ensure that all electronic wastes are disposed on time and safely.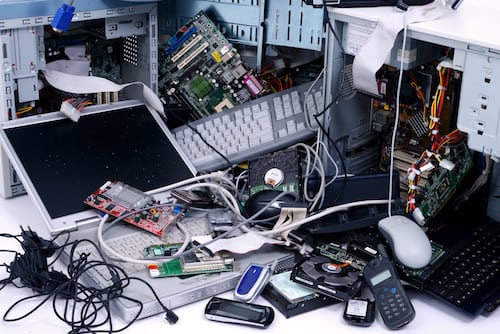 Here are just a few reasons why you should choose Paul's Rubbish Removal for electronic waste disposal.
1. We will save your precious time
If you have a very busy working schedule, then hiring our electronics removal services will greatly help to save on valuable time.
We will dispose the unwanted electronic devices on your behalf and dispose of it in the right place. All that you have to do is give us a call and our staff will be right at your doorstep within the shortest time possible.
2. Our services are cost-effective
Most people usually think that electronics removal is expensive however that is not the case with us.
Our main aim is to help you dispose of electronic waste safely and faster. We offer a cost-effective collection and disposal service at a very affordable price. In fact, when you compare the time that you will take to safely dispose of electronic waste versus the cost that we charge for our services.
3. We safely remove all electronic waste
Contrary to what many people think, electronic waste can pose a serious risk to your health if they are not removed safely. Our staff are well trained and they know how to safely collect and dispose of electronic waste. Electronic waste needs to be removed with care and at Paul's Rubbish Removal, we have the right resources to safely remove all electronic waste in your home or office.
4. We encourage recycling
We don't just get rid of electronic waste. As rubbish removal company, we are committed to make this world a better place. That as is why our rubbish removal services are eco-friendly. Most electronic wastes that we collect are usually taken to the right place where they are recycled and reused.
Call us for a FREE QUOTE for an electronic waste collection and disposal service in your local area today! 0407 125 125!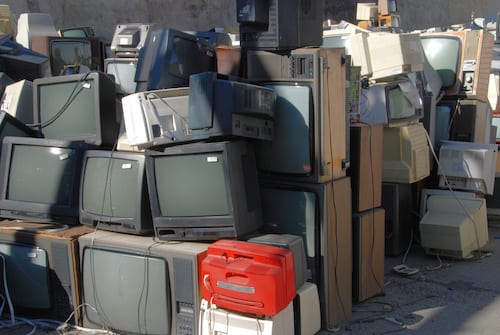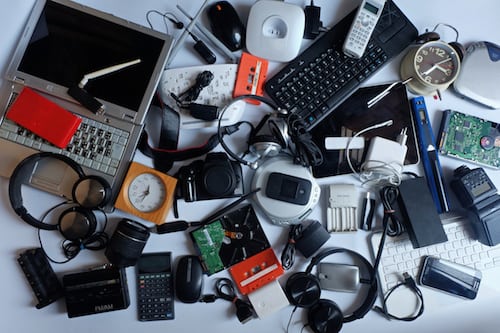 Frequently Asked Questions
Where do you provide electronic waste pick up services?
Paul's Rubbish
2019-07-01T11:31:14+10:00
We collect electronic waste from all major Sydney regions including Sydney CBD, Eastern Suburbs, South West Sydney, North Sydney, North West Sydney, West Sydney, Inner West, Lower North Shore, South Sydney, and Western Sydney.
In short, we cover every part of Sydney. It doesn't matter where you live. As long as you're in Sydney, we can guarantee you that we will reach you if you want our electronic waste disposal services. Just call us on 0407 125 125 and we'll contact you immediately with a free quote.
Related Electronics Resources
Give your local Rubbish Removal a call now
Cheap Rubbish Removal job BIG or small
Strong reasons to choose Paul's Rubbish Removal Service
Extra discounts for returning customers
Free quote provided with all enquiries
No job is too large, too small or too difficult
Over 10 years in the rubbish removal trade
Same-day rubbish and waste collection
CHEAPEST PRICES in Sydney
Complete rubbish clean-out
Removal of all rubbish types
Residential & commercial rubbish removals
Deceased estate cleanup and clearance
Hoarder rubbish clear out
White goods, garden waste & mattresses