Auburn Rubbish Removal
Do you have junk, waste, debris, rubbish in Auburn that needs to be picked up and disposed of immediately? Paul's 24-hour rubbish removal is the perfect solution!
If you are looking for a quick and cheap way to throw out old appliances or large bulky junk in Auburn or Sydney then you are in the right place. Paul's Rubbish Removal are the professionals in removing all types of rubbish, big or small. We have been helping residents and workers safely dispose of things that are no longer useful or required. This may be due to old age or simply because they have been outdated by technology. No matter what the reason is, we will handle all the removal task for you in Auburn to ensure that you won't have to deal with it again.
Lowest prices for rubbish removal Auburn
We are able to provide the lowest prices in Sydney at Paul's Rubbish Removal because we have developed efficient methods of rubbish removal that allows us and you as the customers to save money. Your site in Auburn could be a construction site, home, deceased estate, warehouse, commercial office or strata apartment. It doesn't matter. We are punctual on site to get straight into the process. We work quickly to get in and out so that you won't need to wait around for us.
Fast rubbish removal in Auburn
We are completely flexible to work around your schedule with our 24-hour rubbish removal service. Paul's same-day rubbish removal means that we'll come to collect any junk on your Auburn premise today. Quick, easy and convenient is how we do things. We work day and night to ensure that no rubbish or junk remains at large. We have all the resources to completely take care of any removal situation. Best of all, we'll clean up the site to ensure that it is clean and tidy before we leave. No rubbish should be left behind once we are done.
Free Rubbish Removal Quote in Auburn
Call Paul's Rubbish Removal today for a quick and free rubbish removal quote in Auburn. We accept every type of rubbish including things that your council or recycling centre will not take. You can reach us by calling 0407 125 125 at any time of the day. Our friendly staff are more than happy to talk to you and plan to remove your junk for you. Arrange a date and time with us and you can expect us to show up on time reliably.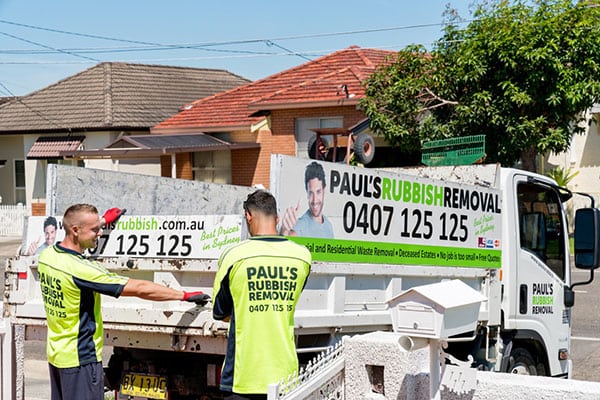 Book your service now