Bankstown Rubbish Removal
BEST PRICE #1 rated rubbish removal company in Bankstown!
Are you looking for a cheap and affordable rubbish removal service that can get quickly remove your rubbish at the best price? If so, Paul's Rubbish in Bankstown is your team to call!
At Paul's Rubbish in Bankstown, we have over 10 years of experience safely and affordably removing junk and waste of all sizes. It doesn't matter if you have a lot of waste to remove or a very minimal amount, our experts will efficiently hand-load all your waste into our truck and have it disposed of accordingly.
Call Paul's Rubbish in Bankstown for a FREE QUOTE today!
Rubbish Removal Service in Bankstown
We provide a range of different types of rubbish solutions to Bankstown and all our serviced areas. We offer rubbish removal services for the following:
We offer a 100% satisfaction guarantee on all our jobs and operate 24 hours 7 days a week to cater to even the busiest of schedules. We understand our customers have very busy schedules and rubbish cleaning is the least of your worries. Let us take care of the junk while you resume with your work!
Book Paul's Rubbish Removal in Bankstown by calling 0407 125 125
For a free quote on any of our rubbish removal services, call us today on 0407 125 125. One of our team members will be with you in no time!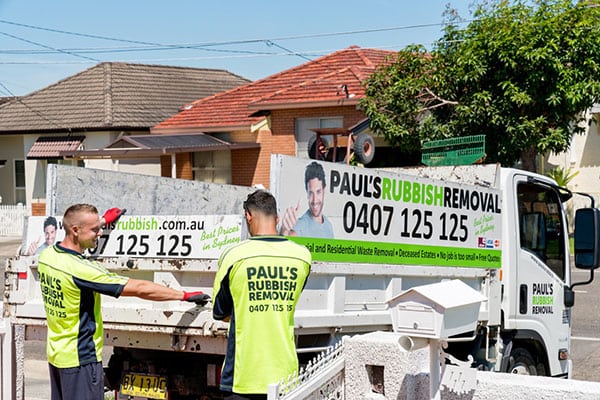 Book your service now

Frequently Asked Questions
Do you remove electronics?
Yes. At Paul's Rubbish Removal we are committed to helping our customers in Bankstown to safely and properly dispose of all electronic waste.
How much does rubbish removal cost?
The cost of removing your rubbish may vary depending on a number of factors such as your location, volume, and the type of rubbish. Nonetheless, our rubbish removal services are affordable and pocket-friendly.
How do I request a removal?
You can simply request for a removal by filling out our online form above or by directly calling Paul at 0407 125 125. Prefer email? You can also email us at info@paulsrubbish.com.au and we'll get back to you quickly.
Do you service during after hours or on weekends?
Yes. Paul's Rubbish Removal provide service 24 hours a day 7 days a week, so we are always able to handle your rubbish removal needs when it's convenient for you.
What do you do with the rubbish?
As an eco-friendly rubbish removal company, we recycle everything we can. What is left is disposed of responsibly.