Mount Pritchard Rubbish Removal
Reliable. Cheap. Fast. Paul's Rubbish Removal can help you with all your rubbish removal needs in Mount Pritchard.
Paul's Rubbish Removal has been actively involved in green disposal methods of rubbish and waste. As an industry leader, we must ensure that we set the right path for others to follow. Implementing greener alternatives for waste disposal means a healthier and cleaner future for everyone. The team at Paul's Rubbish Removal has been in the field of rubbish removal for over 10 years to know exactly how to best approach each and every removal task. Our efficient and effective techniques have led us to reduce our costs and reduce prices for our customers in Mount Pritchard.
Fast Rubbish Removal in Mount Pritchard
Don't be stuck with your rubbish in Mount Pritchard for much longer. Paul's same-day rubbish removal services are here to always help get rid of your junk promptly. We service all areas of Sydney so you will never have to deal with rubbish yourself. Simply call our attentive staff and arrange some details over the phone. Within 24 hours, our team will arrive at your site on time with the resources to completely take care of your rubbish disposal. Our team of strong men will hand removal and load the things onto our trucks for swift disposal. We'll also clean up after ourselves so that no garbage gets left behind, after all, we're the rubbish removal experts.
Affordable Mount Pritchard Rubbish Removal
Most rubbish removal services don't care about the environment. But at Paul's Rubbish Removal, we do! We have seen in first-hand the amount of waste and rubbish there are at landfills and waste tips. Landfills are essentially a secluded area for rubbish to deposit where it is not in contact with the environment. However, they are bad and harmful because rubbish that sits there and rot will release dangerous greenhouse gases into the atmosphere.
Free Rubbish Removal Quote Mount Pritchard
Get a reliable and affordable rubbish removal service today. Get Paul's Rubbish Removal service today. Simply call our team on 0407 125 125 for a quick quote over the phone or visit our interactive website for a list of services available and the Sydney suburbs that we handle.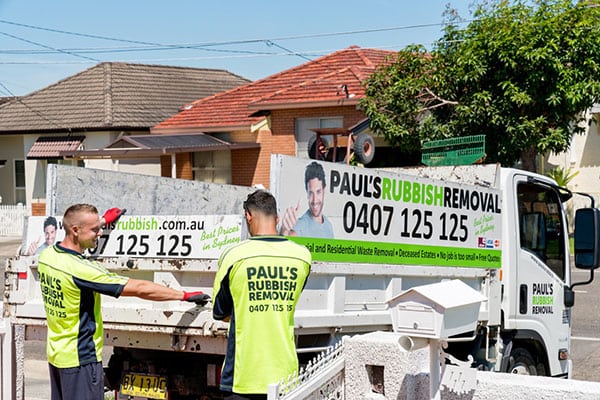 Book your service now