Padstow Rubbish, Junk & Waste Removal
Sarah Ann
2019-07-31T16:21:29+10:00
Padstow Rubbish Removal
Looking for a quick and easy way to throw out that stack of garbage you have in Padstow? Don't look anywhere else!
Paul's Rubbish Removal offers the cheapest rubbish removal rates anywhere in Sydney. Don't let your rubbish sit at home any longer than it needs to! Get Paul and his fast working team to remove it immediately. Waiting for the council to come around once a year for collection can be very time-consuming and not very practical. Even then, there is a limit to how much and what they can collect.
Padstow Rubbish Removal – We are the Best in the Business
We have been in the rubbish removal industry for more than 10 years. We offer same-day removals which means we will come to your front door TODAY! We work throughout the day and night to ensure that our customers are completely satisfied. Our respectable and trustworthy reputation has allowed us the chance to expand even bigger. We now clean up garbage from EVERY suburb throughout Sydney!
Best Price Rubbish Removal Padstow
Paul's Rubbish offers the LOWEST prices in Padstow and the entire Sydney region when it comes to complete junk removal. We ensure all waste is recycled or removed responsibly to ensure nothing is left lying around once our team is done.
Free Rubbish Removal Quote in Padstow
For a fast and efficient rubbish removal service, call Paul's Rubbish today on 0407 125 125. We offer a free quote with all enquiries. Alternatively, with all large jobs, we can also provide a free inspection of your property before we provide a fair and upfront quote.
Common types of rubbish and waste we remove include: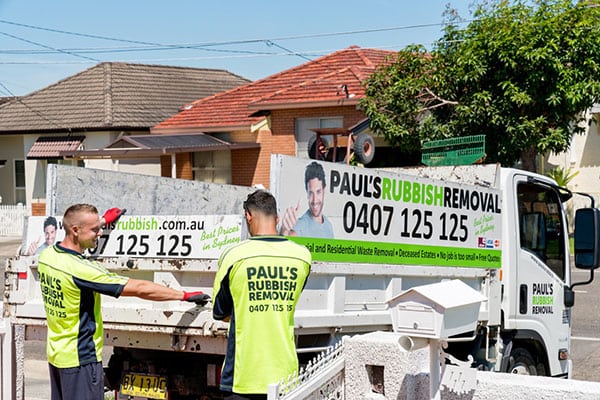 Book your service now