We provide home clear out services at Paul's Rubbish Removal in Sydney!
Fast Home Clear Out Services
An average Sydneysider perhaps hasn't thought a lot about hiring a rubbish removal company. We put waste in our bins, we recycle what/when we can, and we take all the big stuff in the collection area. According to an Australian National Waste Report in 2016, probably that is why Australians are the leading generators of waste per capita in the whole world.

Well, this is the right time for us to figure out where our waste goes. On the same note, we should actively try to reduce that waste. However, this doesn't imply that we start eating tie-dye hemp clothing and lentils. Rather, there are lots of tiny and practical changes we can do to our daily lives.

One of these changes is using a home clear out service from a reputable company such as Paul's Rubbish Removal.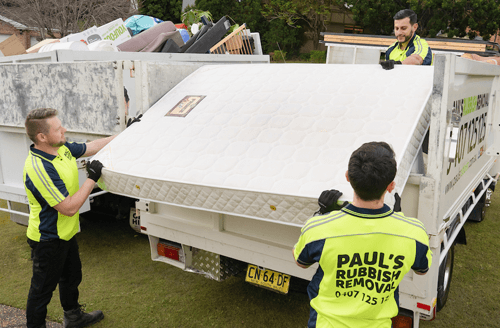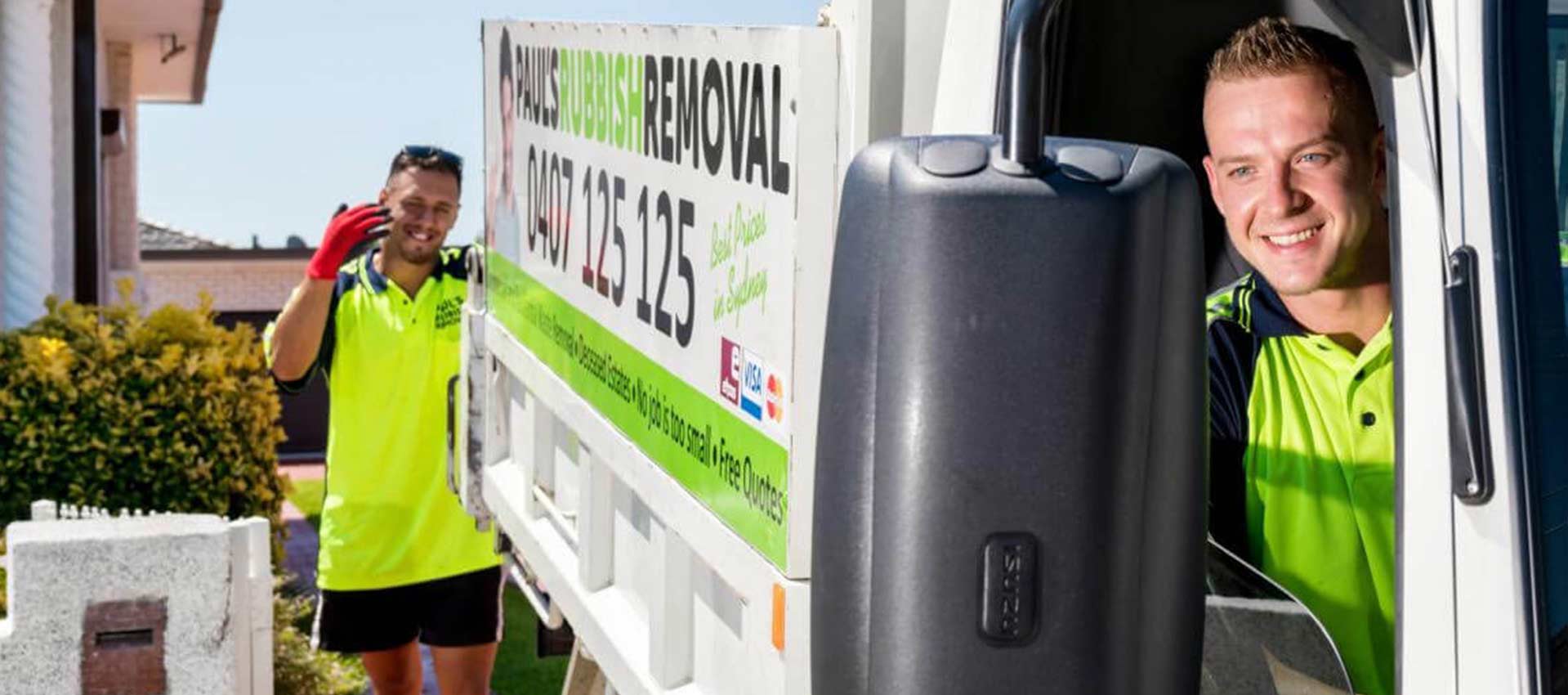 405 reviews on
I recently had the pleasure of hiring Pauls Rubbish Removal, and I must say, the experience was nothing short of outstanding. If you're looking for a reliable and efficient rubbish removal company, look no further!
Maxima Martinez
2023-06-08
Paul arrived extremely quickly and cleared both of my salons for a very affordable price. He and his team were professional, courteous and friendly.
Rowena Phillips
2023-05-25
Great service by the team to clear out an old storage unit. On time, courteous, professional team. Would highly recommend Paul's and will be using their services again soon!
Punctual and efficient moving by a friendly and professional team. Highly recommended. Friendly, respectful and pleasant to deal with.
Absolute legend our odds and ends removal was done quickly and at a good price. We will use Paul again in the future.
Super professional company, best rubbish removal company ive used to date, 100% highly recommend , clean and safe.will be definitely using them again the next time i need something removed
Paul's Rubbish Removal Sydney are a great team of guys who really care about their work. Steve and Michael don't just do the job, they do it well and look after you so you don't have to worry about anything. I highly recommend them!
This company were fantastic. They were very professional, efficient and friendly. They gave me a quote which was exactly what I wanted. When the day arrived they arrived early and set up quickly. They took away my rubbish very quickly and did not leave a mess behind. I would definitely recommend them to anyone needing rubbish removal Sydney.
Best Home Clear Out Services in Sydney
We are the best choice for home clear-out services and this is why.
1) We Recycle and Reduce Waste
It is very hard to decide what to do with things such as chemicals, old paint cans, and broken electrical items. One wise decision you can make is to use a professional junk removal service. At Paul's, we are experienced in recycling and sorting everything. Hence, your carbon footprint, as well as what items go to landfill will reduce. The fact that you no longer need those things, they might be useful to someone else.
2) We Offer The Best Rates
Hauling away your own waste can cost you lots of money. Further, it can waste the precious time that you might be spending on other projects. It is also very expensive to pay a garbage company because they charge by weight or bags.
Assuming you just completed a landscape project. This leaves you with lots of garden materials at your home. These materials are bulky, big and cannot fit in a car. So, you will have to hire a truck.
Worse, you will spend your precious time picking and dropping these materials off. This might take you the entire day. Do not forget that you have to unload the waste. You do not have to go through all that.
Instead, hire our home clear out services and enjoy your weekend in your junk-free home. Better still, we charge a flat fee for our entire clear-out services, which is cheaper than you think.
3) We Help To Boost The Appearance Of Your Home
Having lots of junk outside or inside your home can look unattractive. If you are tired of being in such a situation, we are here to help. We always remove trash immediately to ensure your home gets a new look.
4) We Offer Prompt Services
Our mandate is to offer prompt home clear out services. We know that junk in your home must be removed regularly. This is to ensure your family's entire well-being is taken care of.
5) Helps with DIYs, Decorations and Renovations
Improving a home is an exciting step to take. You might want to install a new entertainment area, or remodel your kitchen. With any renovation, however small or big, there will be construction materials along old items you will require to get rid of. When you enlist our services, you will be at peace knowing that we will sort and recycle all the materials where possible.
6) A Clean Home Environment is a Happy One
Undoubtedly, a clean home or office environment makes everyone content and happy. Take a moment to think about how it feels to have clean carpets or bedsheets. Certainly, all of us would enjoy such an environment.
Alternatively, people would not enjoy navigating piles of rubbish and debris into their homes. On that note, then, you should allow an expert in rubbish removal to pick up all the junk and clear out your cluttered home. Ultimately, we leave you will a bright and clean space, which adds contentment and happiness to your home.
Clearing out your home is important for a hygienic and clean home environment. Above all, keeping your home and garden orderly and neat is one of the basics for a happy life. But without a doubt, a home clear out is a tiring and troublesome undertaking. That is why you should seek help from professionals such as Paul's Rubbish Removal.
With more than 10 year of experience in junk removal, we have helped countless customers in this field. On that note, we would also be glad to work with you.
Call a professional rubbish removal crew today for immediate rubbish collection on 0407 125 125!!
Frequently Asked Questions
Do you provide home clear out services in Sydney?
Yes. Paul's Rubbish Removal provides home clear out services to all suburbs across Sydney's metropolitan area. Our team of experienced rubbish removalists can remove and dispose all types of waste and junk no matter how big or small.
How much does a home clear out cost?
Though Paul's Rubbish offers the best home clear out prices in Sydney, we do not set a uniform price for our home clear out services. The cost of clearing your home of junk or rubbish will vary depending on some important factors like the volume of rubbish collected, location, and any extra services required.
Can you pick up our junk now?
Yes, absolutely. Paul's Rubbish Removal provides same-day rubbish collection services anywhere in Sydney. Just call today on 0407 125 125 to schedule a service.
Where does my rubbish go?
All recyclable items we collect are taken to the appropriate recycling locations in Sydney. While those that can't be recycled will be taken to the nearest transfer stations for proper disposal.
What types of rubbish do you collect?
We remove and collect all types of rubbish, you name it we remove it. No rubbish removal job is too big or small for Paul.
For immediate home clear out
removal service in Sydney
Sydney Rubbish Removal:
We Make It Easy
We provide unmatched, unbeaten Sydney junk removal pricing across all our services! You simply let us know what you need to be removed and we provide you with a no-obligation free quotation to get the job done.
Time is of the essence! Our friendly Sydney team will arrive on time and ready to load your junk into your truck with a smile. We can even load and go even without you being there, providing you with the ultimate convenience!
We clean your site to perfection! Say goodbye to your rubbish once and for all. We only leave when you are 110% happy with the job completed. That's our promise to you!
Call Paul today for a
free quote!
We provide affordable rubbish removal services to all suburbs across Sydney!
Here's how we make rubbish
removal a breeze
Extra discounts for returning customers
Free quote provided with all enquiries
No job is too large, small or difficult
Over 10 years experience in the trade
Quality rubbish removal service
Cheapest prices in Sydney
Complete rubbish clean-out
Removal of all rubbish types
Residential & commercial rubbish removal
Deceased estate cleanup and clearance
Hoarder rubbish clear out
White goods, garden waste & mattresses