We provide CHEAP carpet removal services at Paul's Rubbish Removal in Sydney!
Fast Same-day Carpet
Removal all across Sydney
Carpeting is one of the favourite flooring options for many people. It gives the interior of a home a magnificent look and keeps the family and pets nice and warm throughout the winter. However, the carpet may look dirty and worn out with many years of use.
Carpets have a 3-5 years lifespan, yet many of us never replace it. You should know the dangers of old carpets for your kids, pets and family members.
Cleaning may do some good in changing its look, but with time, the damage on the carpet reaches a point of no return. It will look uneven and discoloured, giving a negative impression to your property.
How do I get rid of old carpet?
If you've just removed your carpets and aren't sure about how to properly dispose of them, Paul's Rubbish Removal is the team to call! We offer the most economical form of old carpet removal and disposal. It would be best if you did not illegally dispose of carpets because of the heavy fines and penalties associated with it.
We specialise in removing any old unwanted carpet from your house or office. Our team will manually hand-load your unwanted carpet into our truck and dispose of it accordingly. We'll dispose of any carpet you may have; marine carpet, olefin carpet, nylon carpet, acrylic carpet and wool carpet.
Can old carpets be recycled?
You can do many things with an old carpet instead of throwing it away to sit in a landfill. For example, it can be recycled and turned into new carpets. Plastic products such as flooring and plastic cover can be produced from old carpets.
You can also make use of it by repurposing it. Check out our article on 'Old Carpet Removal & Repurposing Ideas' to see how to effectively reuse your worn down carpet.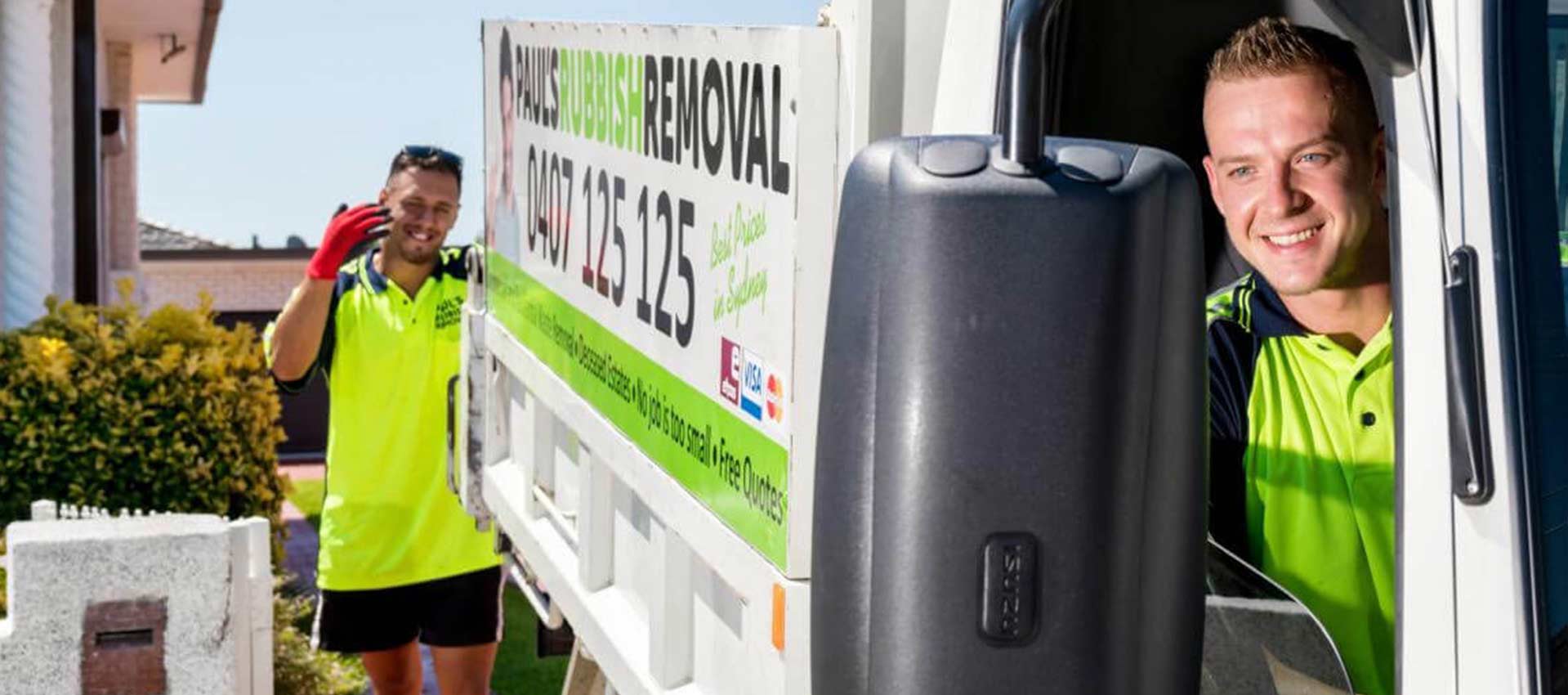 405 reviews on
I recently had the pleasure of hiring Pauls Rubbish Removal, and I must say, the experience was nothing short of outstanding. If you're looking for a reliable and efficient rubbish removal company, look no further!
Maxima Martinez
2023-06-08
Paul arrived extremely quickly and cleared both of my salons for a very affordable price. He and his team were professional, courteous and friendly.
Rowena Phillips
2023-05-25
Great service by the team to clear out an old storage unit. On time, courteous, professional team. Would highly recommend Paul's and will be using their services again soon!
Punctual and efficient moving by a friendly and professional team. Highly recommended. Friendly, respectful and pleasant to deal with.
Absolute legend our odds and ends removal was done quickly and at a good price. We will use Paul again in the future.
Super professional company, best rubbish removal company ive used to date, 100% highly recommend , clean and safe.will be definitely using them again the next time i need something removed
Paul's Rubbish Removal Sydney are a great team of guys who really care about their work. Steve and Michael don't just do the job, they do it well and look after you so you don't have to worry about anything. I highly recommend them!
This company were fantastic. They were very professional, efficient and friendly. They gave me a quote which was exactly what I wanted. When the day arrived they arrived early and set up quickly. They took away my rubbish very quickly and did not leave a mess behind. I would definitely recommend them to anyone needing rubbish removal Sydney.
Why choose us for your old carpet removal and disposal in Sydney.
Strong Reputation
We have been in rubbish removal business for more than ten years servicing Sydney and its environments. In this time, we've safely and reliably removed all sorts of carpets – no matter how big or small the load.
Highly Experienced
Being in rubbish removal business for more than a decade comes with a wealth of experience. This puts us in a superior position to handle any sort of carpet removal or waste removal task. No matter how messy it may appear, we will carefully remove your carpets and hand-load them into our trucks minimising mess along the way.
Well-equipped and trained
We have all the necessary tools to get the job done. You won't have to incur any cost in buying supplies or tools. You will sit and enjoy our carpet removal services. You will not be required to do anything as we will handle every detail involved in the process. Our team is well trained and physically fit to remove your unwanted carpets professionally to ensure you will be satisfied with the service we will deliver.
Excellent Customer Support
Our customers are the greatest pillar of our business. We strive to ensure you get the convenience and comfort you deserve. We answer all email enquiries within just 15 minutes! And are able to provide an instant free quote with all call enquiries.
Affordable Pricing
We provide the CHEAPEST carpet removal services in Sydney. If you find any written quotation for rubbish removal, we'll beat it!
There is no other competitor in Sydney that can provide complete carpet removal solutions as we do. We hand remove your unwanted house carpet for you and safely dispose of it. Not many councils and companies will accept your carpets and if they do, they will only accept a limited amount. With Paul's Rubbish Removal, we'll provide you with a custom and tailor carpet disposal option for you. We understand that carpet can be tricky to get rid of, so why not let a reputable company like us do the job for you?
Our friendly team will get the job done for you. Even if it has not been removed from the ground, our team has the tools to pry the carpet out of the house for you. We have the knowledge and experience to handle old carpets professionally. Get started today!
Call Paul's Rubbish Removal for a carpet removal service in Sydney today! 0407 125 125!
For immediate carpet
removal service in Sydney
Sydney Rubbish Removal:
We Make It Easy
We provide unmatched, unbeaten Sydney junk removal pricing across all our services! You simply let us know what you need to be removed and we provide you with a no-obligation free quotation to get the job done.
Time is of the essence! Our friendly Sydney team will arrive on time and ready to load your junk into your truck with a smile. We can even load and go even without you being there, providing you with the ultimate convenience!
We clean your site to perfection! Say goodbye to your rubbish once and for all. We only leave when you are 110% happy with the job completed. That's our promise to you!
Frequently Asked Questions
Do you provide after hours carpet disposal?
Yes, we provide our services 24/7 including off days. At Paul's Rubbish Removal, we fully understand that time is a limited commodity. That's why we work round the clock to ensure that all our customers are served and satisfied with our services.
Can carpet underlay be recycled?
Yes. You do not need to replace your carpet underlay every time you remove an old carpet. You can reuse a carpet underlay as long as it is in good condition. Recycling an old one can be a great way of reducing costs.
How much does it cost for a carpet removal?
The cost of removing your carpet will depend on a number of factors including your location, the size of the carpet, and the material of the carpet among other things.
Do you remove household carpet from the floor?
Yes. There's no question that household carpets can be bulky, especially if they are meant for large rooms. Again, carpets can be notoriously difficult to carry even when rolled up. They can easily fall over causing injuries or damages to other items.
Can you pick my household carpet now?
Yes, we offer same-day household carpet removal services. Although a carpet is one of the best flooring options for many people, having a nasty old carpet lying around is something that many people do not want. Not only can such a carpet cause allergies but it can also attract germs if left lying around in the house.
What should I do to prepare my room for carpet removal?
To ensure a smooth carpet removal process, we recommend clearing the room of furniture and personal items. If you need assistance with this, please let us know in advance so we can arrange the necessary help.
Are there any types of carpets or adhesives that you cannot remove?
We are equipped to handle a wide variety of carpets and adhesives. However, if your carpet is glued down with a particularly strong adhesive or if it's a unique type of carpet, it's best to inform us beforehand so we can prepare the appropriate tools and techniques.
How long does the carpet removal process typically take?
The duration of carpet removal depends on the size of the area and the type of carpet. Generally, for an average-sized room, it can take anywhere from 1 to 3 hours. We can provide a more accurate estimate once we know the specifics of your project.
Do you offer carpet removal services for commercial properties?
Yes, we provide carpet removal services for both residential and commercial properties. We have the expertise and equipment to handle large-scale commercial projects efficiently.
Is it possible to book a carpet removal service in advance?
Absolutely! We encourage advance bookings to ensure that we can accommodate your preferred schedule. You can contact us to set a date and time that works best for you.
Call Paul today for a
free quote!
We provide affordable rubbish removal services to all suburbs across Sydney!
Here's how we make rubbish
removal a breeze
Extra discounts for returning customers
Free quote provided with all enquiries
No job is too large, small or difficult
Over 10 years experience in the trade
Quality rubbish removal service
Cheapest prices in Sydney
Complete rubbish clean-out
Removal of all rubbish types
Residential & commercial rubbish removal
Deceased estate cleanup and clearance
Hoarder rubbish clear out
White goods, garden waste & mattresses