We provide fast lounge & couch removal services at Paul's Rubbish Removal in Sydney!
Best Lounge & Couch Removal in Sydney
Do you have old lounges and couches that need to be removed ASAP? Is it taking up too much space at home and you simply need it gone in the most efficient manner possible? We can help!

Firstly, lounges and couches are pieces of furniture that are bulky. Removing them calls for extra manpower. Secondly, deciding where to best dispose of them is often hard. You should know the severe penalties and fines for illegally dumping old lounges and couches. This shouldn't stress you as we are there to get you out of this mess. Get professional rubbish removal to remove your old lounge once and for all!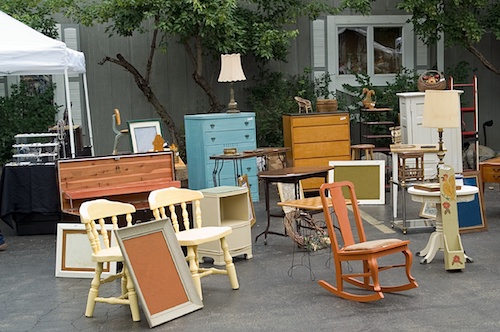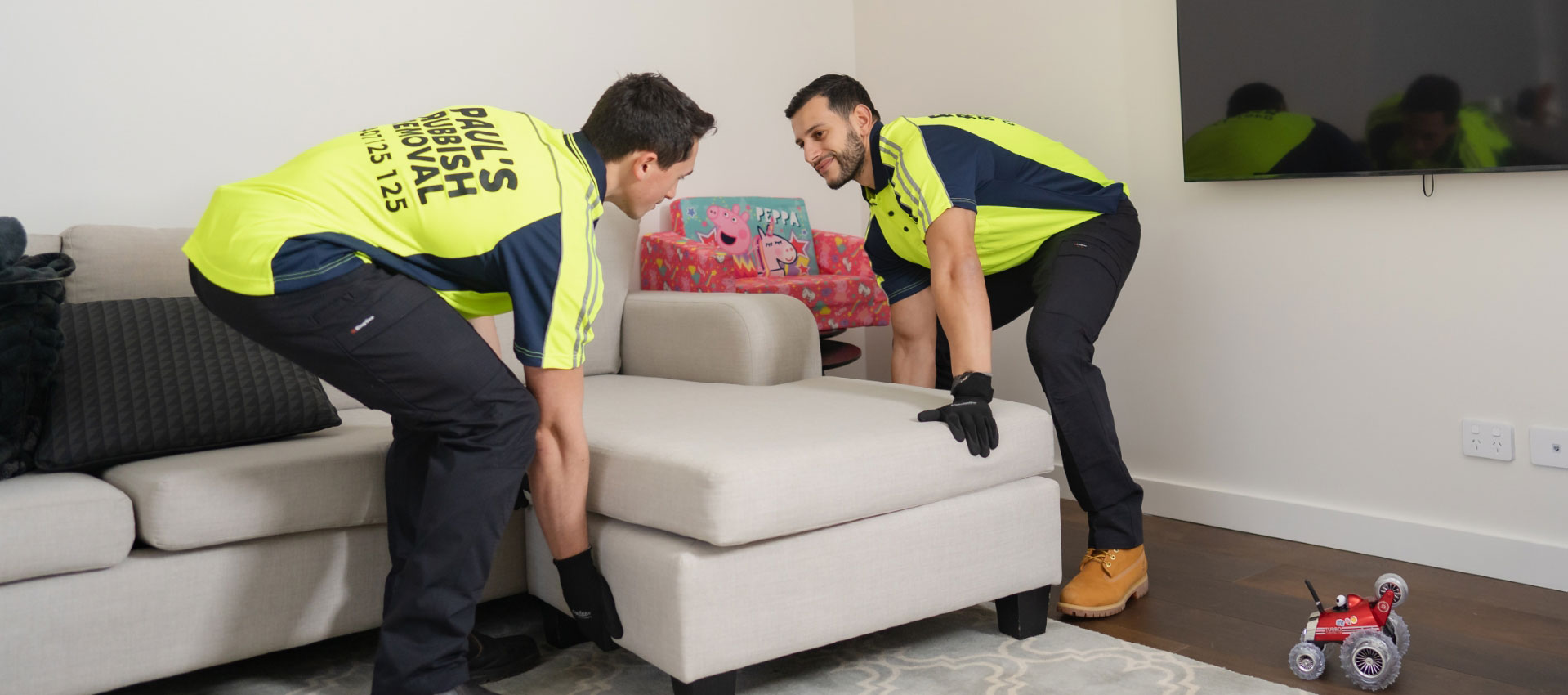 405 reviews on
I recently had the pleasure of hiring Pauls Rubbish Removal, and I must say, the experience was nothing short of outstanding. If you're looking for a reliable and efficient rubbish removal company, look no further!
Maxima Martinez
2023-06-08
Paul arrived extremely quickly and cleared both of my salons for a very affordable price. He and his team were professional, courteous and friendly.
Rowena Phillips
2023-05-25
Great service by the team to clear out an old storage unit. On time, courteous, professional team. Would highly recommend Paul's and will be using their services again soon!
Punctual and efficient moving by a friendly and professional team. Highly recommended. Friendly, respectful and pleasant to deal with.
Absolute legend our odds and ends removal was done quickly and at a good price. We will use Paul again in the future.
Super professional company, best rubbish removal company ive used to date, 100% highly recommend , clean and safe.will be definitely using them again the next time i need something removed
Paul's Rubbish Removal Sydney are a great team of guys who really care about their work. Steve and Michael don't just do the job, they do it well and look after you so you don't have to worry about anything. I highly recommend them!
This company were fantastic. They were very professional, efficient and friendly. They gave me a quote which was exactly what I wanted. When the day arrived they arrived early and set up quickly. They took away my rubbish very quickly and did not leave a mess behind. I would definitely recommend them to anyone needing rubbish removal Sydney.
How do I dispose of my old lounge?
We often get asked, 'how to get rid of old lounge?' Throwing out your lounge doesn't have to be difficult and painful. You can remove your unwanted lounge and couch in some ways!
Since your normal wheelie bin is too small for your lounge to fit, the first disposal method is to hire a skip bin to throw your lounge into. The downfalls of this method are that you will end up waiting for the skip bin to arrive which may take some time; you will have to carry, lift and drag the lounge yourself; and the big ugly bin will be sitting outside your house, attracting pests to your home.
Check out the pros and cons of a rubbish removal hire and a skip bin.
The often preferred alternative is to hire a professional rubbish removal service such as Paul's Rubbish Removal. We specialise in removing all things big and small! We will arrive with our truck and resources at your front steps all on the same day.
Our strong men will do all the work for you upon arrival. Carefully lifting, carrying and loading the lounge onto our truck for quick disposal. Removing your lounge with a rubbish removal service is as simple as a, b, c.
Best of all, Paul's Rubbish Removal is dedicated to responsibly recycle and properly dispose of your lounge in an environmentally-friendly way. We take every step to ensure that our junk is correctly disposed of.
Safe Lounge & Couch Removal
Couches and lounges are big and need to be removed with utmost care. Any error can lead to damage to your property.
At Paul's Rubbish Removal, we have a team of skilled manpower that will ensure old couch and lounges are removed carefully. We fully understand the impact that any kind of recklessness can have on your house.
We remove them slowly without breaking anything in the house or damaging the floor. Once outside, we can facilitate the transportation of your unwanted lounge to the required destination.
Sydney has strict laws that guide how waste should be disposed of. When removing couches and old lounge, we abide by the local laws. We take them to the designated disposal centres where they can be recycled or be reused.
Professional Lounge and Couch Removal
We are a reputable rubbish removal company in Sydney hence we conduct ourselves professionally. Once you contact us, we will be at your premises within a short time. We respect our clients' privacy and will only do the task that has brought us. Our removalists won't do anything that will make you uncomfortable with their presence.
Even while removing the old couches and lounges, we are open to taking instructions from the property owner. At the same time, we can give you better ideas on managing and disposing of waste. We ensure that there is seamless communication between us and the clients to ensure that you get the best service.
Types of Lounge We Remove
We remove all types of lounges and couches!
Big lounge removal
Small lounge removal
Leather lounge removal
Polyester lounge removal
Antiqued lounge removal
Old lounge removal
We Serve Different Customers
We offer old lounge and couch removal services in Sydney for both residential and business premises. Whether you want the service to your home or office, we will give it. Here are some of the sites that we serve:
We are the cheapest rubbish removers in Sydney. We have a fair pricing plan for all our customers. Also, we are transparent about our prices. We provide full information on what you are supposed to pay beforehand. This will help you to lay out proper plans on how to get rid of the old lounge and couch.
Experienced Lounge Removals
Our experience in the rubbish removal industry is unrivalled. We have been serving residents and businesses of Sydney for years and we understand their needs. Our experience helps us to give them the best services. We are a trusted rubbish remover in Sydney and this is because of our experience in the industry.
Call Us For A Free Lounge Removal Quote Today! 0407 125 125
Do not be stressed by the ugly scenes of old lounges and couches. Call Paul's Rubbish Removal for a free quote.
For immediate lounge and couch
removal service in Sydney
Sydney Rubbish Removal:
We Make It Easy
We provide unmatched, unbeaten Sydney junk removal pricing across all our services! You simply let us know what you need to be removed and we provide you with a no-obligation free quotation to get the job done.
Time is of the essence! Our friendly Sydney team will arrive on time and ready to load your junk into your truck with a smile. We can even load and go even without you being there, providing you with the ultimate convenience!
We clean your site to perfection! Say goodbye to your rubbish once and for all. We only leave when you are 110% happy with the job completed. That's our promise to you!
Frequently Asked Questions
How much does a lounge and couch removal cost?
The cost of removing your lounge or couch will depend on different important factors such as your location and the number of man power needed to remove it. That being said, our piano removal services are the most affordable in Sydney.
Can you collect and removed my couch on a Sunday?
Yes, absolutely. Our hard working team at Paul's Rubbish Removal are available 24/7 to remove all unwanted rubbish from your household or office. We work around your schedule when you need us the most.
Do you take other furnitures?
Yes. We take all types of furniture. At Paul's Rubbish, we can safely and efficiently remove any type of furniture you need removing. We take the greatest care when lifting and carrying furniture out of your home. Couches, cabinets, tables and chairs, we'll take care of it all.
Will you recycle my couch?
Yes. As an environmentally-conscious entity, we make sure that we dispose of everything we collect in an environmentally friendly manner. The best way to discard your couche, lounge or sofa is to recycle it.
Call Paul today for a
free quote!
We provide affordable rubbish removal services to all suburbs across Sydney!
Here's how we make rubbish
removal a breeze
Extra discounts for returning customers
Free quote provided with all enquiries
No job is too large, small or difficult
Over 10 years experience in the trade
Quality rubbish removal service
Cheapest prices in Sydney
Complete rubbish clean-out
Removal of all rubbish types
Residential & commercial rubbish removal
Deceased estate cleanup and clearance
Hoarder rubbish clear out
White goods, garden waste & mattresses