We provide fast rubbish removal for nursing homes all across Sydney. Call us now!
Same-day Nursing Home & Retirement Village Rubbish Removal all across Sydney
Administrators of nursing homes face an assortment of waste and rubbish problems on a daily basis. The facility produces waste materials that may pose dangers to public health thus proper management should be practised. There are also laws and regulations that needed to be followed to avoid penalties.

Paul's Rubbish Removal aims to help you in keeping your nursing home clean and safe. We'll take out all types of waste materials from your facility and dispose of them accordingly.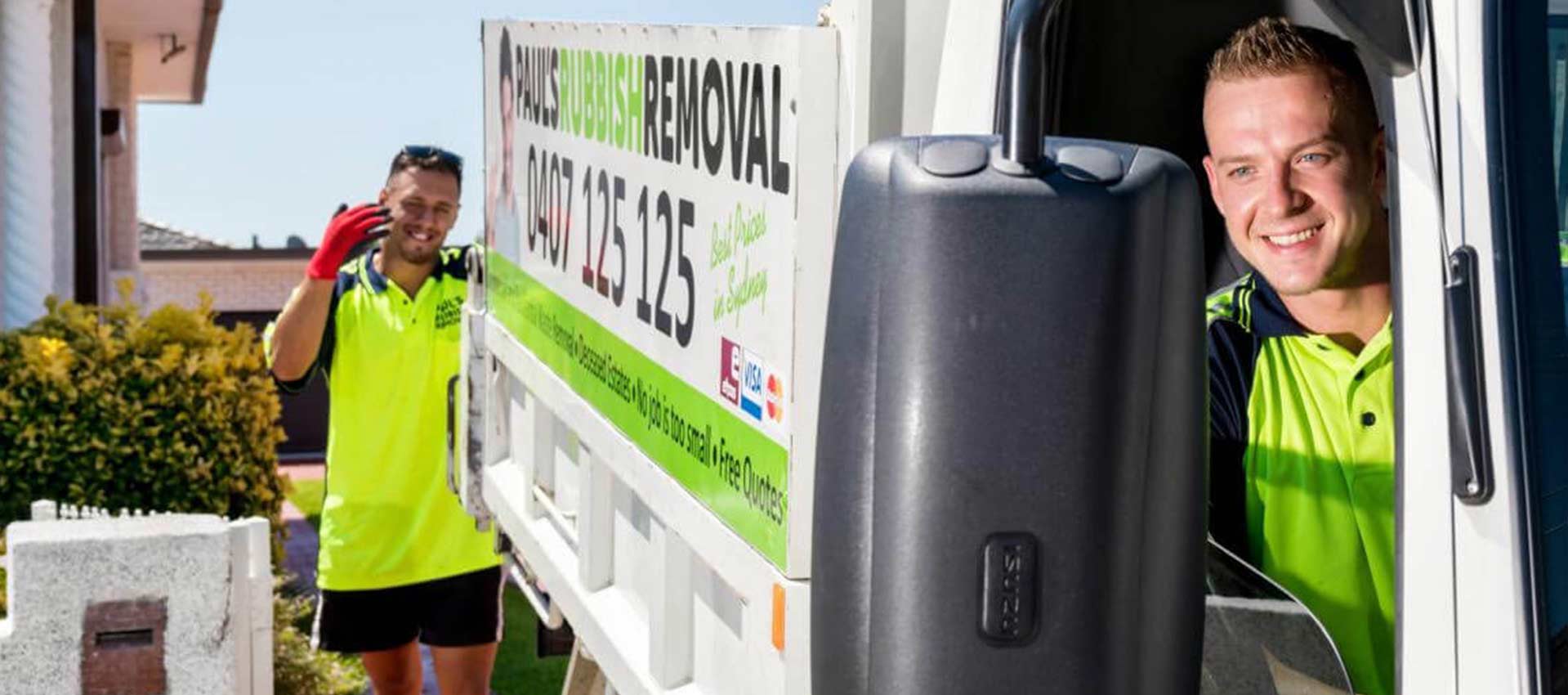 405 reviews on
I recently had the pleasure of hiring Pauls Rubbish Removal, and I must say, the experience was nothing short of outstanding. If you're looking for a reliable and efficient rubbish removal company, look no further!
Maxima Martinez
2023-06-08
Paul arrived extremely quickly and cleared both of my salons for a very affordable price. He and his team were professional, courteous and friendly.
Rowena Phillips
2023-05-25
Great service by the team to clear out an old storage unit. On time, courteous, professional team. Would highly recommend Paul's and will be using their services again soon!
Punctual and efficient moving by a friendly and professional team. Highly recommended. Friendly, respectful and pleasant to deal with.
Absolute legend our odds and ends removal was done quickly and at a good price. We will use Paul again in the future.
Super professional company, best rubbish removal company ive used to date, 100% highly recommend , clean and safe.will be definitely using them again the next time i need something removed
Paul's Rubbish Removal Sydney are a great team of guys who really care about their work. Steve and Michael don't just do the job, they do it well and look after you so you don't have to worry about anything. I highly recommend them!
This company were fantastic. They were very professional, efficient and friendly. They gave me a quote which was exactly what I wanted. When the day arrived they arrived early and set up quickly. They took away my rubbish very quickly and did not leave a mess behind. I would definitely recommend them to anyone needing rubbish removal Sydney.
Types of Waste & Rubbish Found in Nursing Homes
Nursing homes produce all kinds of waste and rubbish. In most instances, these waste materials pose serious threats to the public if handled inappropriately. It's very important to identify and know what are the types of rubbish the nursing home produces.
Here's a list of the most common types of waste materials found in nursing homes:
Recyclable waste – These are the plastics, paper, beverage containers and other materials that can be recycled. Take note, however that such materials should not have been heavily exposed to body fluids (such as blood, urine, etc)
Sharps – These are the needles, lancets, razors, blades, and "sharp" objects used in giving medications, administering tests, and used in minor operations in the facility. Anything that is used to penetrate the skin is categorised as sharp. Used sharps should be placed inside metal or plastic containers with tightly shut lids labelled as "sharps".
Furniture – We safely remove any sort of large furniture, tables, chairs, shelves and office equipment. No matter what type of indoor or outdoor furniture you need to be removed, we can help.
How Removal Services Can Solve Your Nursing Home Rubbish Problems
Removal services like Paul's are equipped with all the equipment, knowledge, and skills to handle the waste problems of your nursing home. We have well-established waste management systems that we can apply to your facility. Waste disposal shouldn't be a problem for you anymore.
Here's the list of benefits that you can get from Paul's Rubbish Removal:
Segregation Methods
Waste materials should be identified and placed in respective bins. Our company can provide you with various colour-coded bins where you can place the recyclable, infectious, and radioactive rubbish.
We can also help in educating your staff, medical personnel, and your tenants in:
Setting up waste and rubbish collection systems in the facility.
Identifying areas in the facility to be designated as collection spots
Explaining the importance of waste segregation
Providing information about recycling methods
Waste Reduction Methods
Practising efficient waste reduction methods can save a lot of your resources. Establishing such methods in your facility, alongside the segregation methods will ensure a safe and healthy environment for your staff, tenants, and the visitors of your nursing home.
Our team can help you with your waste assessment and modification of your practices. We have established methodologies proven to be very applicable and efficient for your facility. The methods were developed and constantly adjusted to fit the needs of our customers.
Convenient Collection Schedule
The collection schedule we implement at Paul's Rubbish Removal is always tailored to the convenience of our customers. We understand and value your peak hours and wouldn't want to bother you with our activities during those times. Our transporters are readily available any time of the day or night – whichever you prefer.
Very Affordable Rates
One of the distinct advantages of choosing Paul's Rubbish Removal for taking care of your nursing home is: we provide high-quality rubbish removal services in all of Sydney with the lowest of rates. We have over 10 years of providing excellent removal services covering all kinds of industries.
Practising proper waste management disposal could benefit your nursing home facility and the City of Sydney in general. We can help minimise the pollution of our environment, recycle to conserve raw material sources and establish efficient waste management and disposal system.
For more information about rubbish removal for your nursing home, contact us at 0407 125 125.
For immediate nursing home rubbish
removal service in Sydney
Sydney Rubbish Removal:
We Make It Easy
We provide unmatched, unbeaten Sydney junk removal pricing across all our services! You simply let us know what you need to be removed and we provide you with a no-obligation free quotation to get the job done.
Time is of the essence! Our friendly Sydney team will arrive on time and ready to load your junk into your truck with a smile. We can even load and go even without you being there, providing you with the ultimate convenience!
We clean your site to perfection! Say goodbye to your rubbish once and for all. We only leave when you are 110% happy with the job completed. That's our promise to you!
Call Paul today for a
free quote!
We provide affordable rubbish removal services to all suburbs across Sydney!
Here's how we make rubbish
removal a breeze
Extra discounts for returning customers
Free quote provided with all enquiries
No job is too large, small or difficult
Over 10 years experience in the trade
Quality rubbish removal service
Cheapest prices in Sydney
Complete rubbish clean-out
Removal of all rubbish types
Residential & commercial rubbish removal
Deceased estate cleanup and clearance
Hoarder rubbish clear out
White goods, garden waste & mattresses