We provide fast warehouse rubbish removal services all across Sydney. Call us now!
Same-day Warehouse Rubbish
Removal all across Sydney
It is highly important that a warehouse should be tidy and clean to maximise the space available for a business to store its inventory. Every now and then when it gets busy, the warehouse can end up looking like a rat's nest.

Not only is a cramped warehouse inefficient, but it is also a dangerous working environment for the employees. Trip hazard, falling pallets and moving machines are just some of the dangers that are enhanced in a messy workspace.

Therefore, it is important to carry out a full and thorough rubbish removal and cleaning of the warehouse regularly to maintain a pleasant environment for everyone.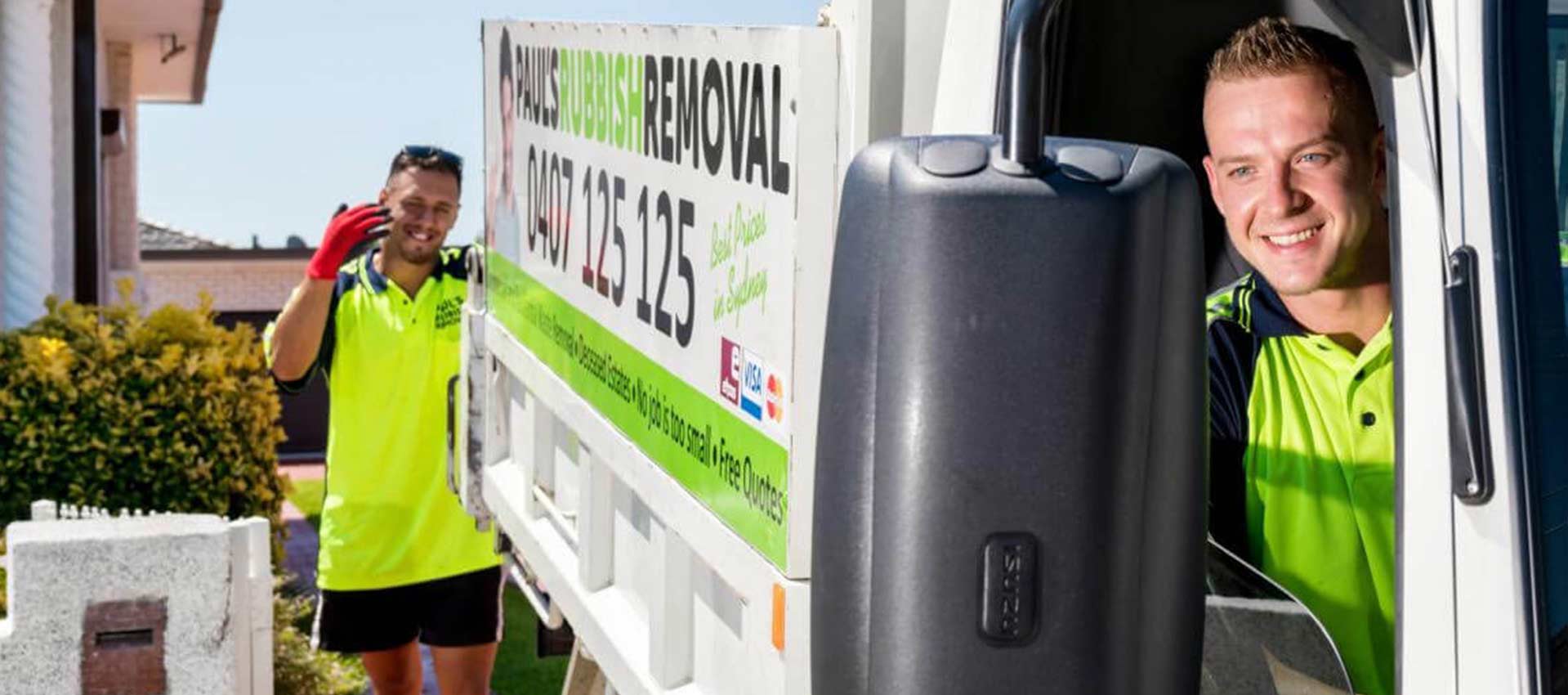 405 reviews on
I recently had the pleasure of hiring Pauls Rubbish Removal, and I must say, the experience was nothing short of outstanding. If you're looking for a reliable and efficient rubbish removal company, look no further!
Maxima Martinez
2023-06-08
Paul arrived extremely quickly and cleared both of my salons for a very affordable price. He and his team were professional, courteous and friendly.
Rowena Phillips
2023-05-25
Great service by the team to clear out an old storage unit. On time, courteous, professional team. Would highly recommend Paul's and will be using their services again soon!
Punctual and efficient moving by a friendly and professional team. Highly recommended. Friendly, respectful and pleasant to deal with.
Absolute legend our odds and ends removal was done quickly and at a good price. We will use Paul again in the future.
Super professional company, best rubbish removal company ive used to date, 100% highly recommend , clean and safe.will be definitely using them again the next time i need something removed
Paul's Rubbish Removal Sydney are a great team of guys who really care about their work. Steve and Michael don't just do the job, they do it well and look after you so you don't have to worry about anything. I highly recommend them!
This company were fantastic. They were very professional, efficient and friendly. They gave me a quote which was exactly what I wanted. When the day arrived they arrived early and set up quickly. They took away my rubbish very quickly and did not leave a mess behind. I would definitely recommend them to anyone needing rubbish removal Sydney.
Common rubbish found in warehouses
It is easy for warehouses to accumulate and house a substantial amount of rubbish. Especially when a lot of inventory is being stored and constantly moved around.
Unforeseen circumstances such as damaged fixtures, busted machines and broken pallets can add to the pile of junk that needs to be removed professionally or by other means.
You should be aware of common warehouse rubbish when performing a warehouse cleanout. We have found that the most common rubbish in warehouses is as follow:
Benefits of an organised and clean warehouse
There many benefits of having an uncluttered warehouse.
1) Increased productivity & efficiency
Imagine trying to reach the end of the warehouse with a forklift and there is rubbish in the way. Nothing gets completed. You now have to delay the job because you need to remove the junk that is in the way. Please leave it to the professionals to do it for you. A clean workspace will allow employees to focus on the job.
2) Safe work environment
Having garbage lying around can pose a trip hazard. This can lead to further injuries if the person carries a heavy load. This could harm others as well as themselves.
Using a forklift is always dangerous. Even more so when there is rubbish scattered around the warehouse, if a forklift carrying a bulky pallet is caught on a piece of rubbish on the ground, it could stop suddenly. There is a risk that the pallet may fall and harm someone.
3) Healthier & happier employees
A breathable and habitable warehouse means the employees will not constantly inhale dust, dirt and harmful particles in the air. Looking after your employee's health will reward you considerably with low staff turnovers and hardworking individuals.
Nothing is more frustrating than trying to manoeuvre a pallet jack in a cluttered warehouse. Employees will begin to blame each other for the rubbish mess and conflict within the workplace will arise. Keeping the environment rubbish-free will prevent this situation and make everyone happy.
4) Aesthetically pleasing
Besides safety and higher productivity, the warehouse looks much more pleasant when clean. It is a place where people want to be. Nobody wants to go through an eye-sore whenever they turn up for work.
A tidy warehouse also translates to a high level of professionalism. A trustworthy and reputable company that can manage and be on top of things. Clear out that warehouse today!
Call Paul's Warehouse Rubbish Removal!
Need help with a messy warehouse? For all your warehouse junk, waste, rubbish removal in Sydney, give Paul's Rubbish Removal on 0407 125 125. Our friendly staff will provide you with a quote over the phone at FREE of charge.
We offer affordable warehouse cleanout that our competitors simply cannot compete with. Our experienced team will hand remove anything in your warehouse for quick disposal. We will clean up the site after the removal to ensure that the warehouse looks sparkling clean.
For immediate warehouse rubbish
removal service in Sydney
Sydney Rubbish Removal:
We Make It Easy
We provide unmatched, unbeaten Sydney junk removal pricing across all our services! You simply let us know what you need to be removed and we provide you with a no-obligation free quotation to get the job done.
Time is of the essence! Our friendly Sydney team will arrive on time and ready to load your junk into your truck with a smile. We can even load and go even without you being there, providing you with the ultimate convenience!
We clean your site to perfection! Say goodbye to your rubbish once and for all. We only leave when you are 110% happy with the job completed. That's our promise to you!
Call Paul today for a
free quote!
We provide affordable rubbish removal services to all suburbs across Sydney!
Here's how we make rubbish
removal a breeze
Extra discounts for returning customers
Free quote provided with all enquiries
No job is too large, small or difficult
Over 10 years experience in the trade
Quality rubbish removal service
Cheapest prices in Sydney
Complete rubbish clean-out
Removal of all rubbish types
Residential & commercial rubbish removal
Deceased estate cleanup and clearance
Hoarder rubbish clear out
White goods, garden waste & mattresses