Ashfield Rubbish, Junk & Waste Removal
Sarah Ann
2019-07-31T13:21:04+10:00
Ashfield Rubbish Removal
Is your Ashfield home cluttered with rubbish? Old junk piling up and unsure how to get it all removed? Paul's Rubbish Removal is your answer.
Paul's Rubbish Removal has been specialising in clearing up and removing rubbish in residential households for the past 10 years. Our experienced team of rubbish removalists in Ashfield will have your property completely cleaned up and looking like new in no time.
Rubbish Removal Services in Ashfield
Not only do we service residential homes, we also conduct full rubbish clean-ups in messy job construction sites and service commercial buildings. You can mostly say that Paul's Rubbish Removal does it all.
To give you an idea of the types of rubbish we remove in Ashfield, here are some examples. Types of junk and debris we remove include office tables and chairs, all kinds of old kitchen appliances, newspapers, cardboard boxes, timber, tiles and almost every type of materials you can think of.
If it can fit in our truck, it can be removed!
Rubbish Removal Prices in Ashfield
We offer affordable pricing across all our rubbish removal services in Ashfield. There are absolutely no hidden costs involved. You'll never pay more than what you have been quoted. That is Paul's guarantee.
Book Paul's Rubbish Removal in Ashfield
Whether you're located in Ashfield or any of its surrounding suburbs, rest assure Paul and the team will arrive on-time and be ready to clean.
Our team will schedule a time which suits you and will leave only when you're satisfied with the job. We understand the importance of customer satisfaction and will always ensure we tidy up after ourselves.
For an obligation-free quote, call Paul's Rubbish Removal today on 0407 125 125.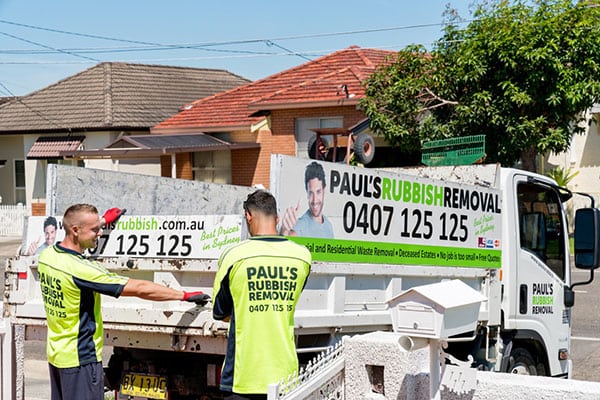 Book your service now