Homebush West Rubbish Removal
Want a fast, hassle-free and cheap way to get rid of your rubbish in Homebush West? Paul is here to help!
Hiring a rubbish removal service in Homebush West has many advantages! First, you don't need to do labour and heavy lifting. Second, Paul's Rubbish Removal offers same-day removal which means that you get to dispose of your junk all in the same day!  Lastly, there is no need to stress about anything. You do not need to sort out your rubbish or worry about how can you transport your garbage with you to a dumping field. We want to provide you with cheap rubbish collection and removal service in all of Sydney.
Cheapest Rubbish Collection in Homebush West
Paul's Rubbish Removal has been in the industry for over 10 years. Their specialisation in Sydney has made them a very competitive junk removal company. We have also maintained a very green approach at our disposal to make sure that we help protect the environment as best as we can.
Best Price Rubbish Removal Homebush West
Paul's Rubbish offers some of the best prices in Homebush West and the entire Sydney region when it comes to complete rubbish removal solutions. We ensure all waste is recycled or removed responsibly to ensure nothing is left lying around once our team is done.
Free Rubbish Removal Quote in Homebush West
For a fast and efficient rubbish removal service, call Paul's Rubbish today on 0407 125 125. We offer a free quote with all enquiries. Alternatively, with all large jobs, we can also provide a free inspection of your property before we provide a fair and upfront quote.
Common types of rubbish and waste we remove include: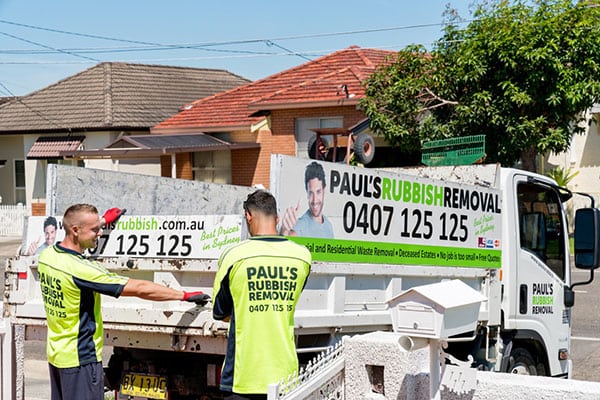 Book your service now