Concord Rubbish Removal
Are you looking for the BEST PRICE rubbish collection service in Concord? Require a reliable rubbish removal service on the same day? Give Paul's Rubbish a call for a FREE QUOTE NOW!
At Paul's Rubbish, we offer a same-day and reliable rubbish removal service to all Concord and all its nearby suburbs. We are an experienced rubbish removal team with the commitment to get the job done no matter how big or small the job.
To provide all our customers with a peace of mind, Paul's Rubbish provides a 100% satisfaction guarantee across all our household rubbish collection services. We will not leave your property until you are completely satisfied with the removal.
Same-Day Rubbish Removal Service in Concord
We understand that most people are busy and can't wait around all day for their rubbish to be collected. That is why we provide a same-day rubbish collection service to all Concord households.
Not only do we cater to residential households, we also provide complete clean-ups to construction, building sites and commercial complexes. Common types of rubbish, waste and junk we remove include:
Household furniture's
Kitchen appliances such as fridges and microwaves
Building materials such as fencing, timber and bricks
Old electronics including computers and televisions
Office furniture including tables and chairs
For all large removals, please call us and advise us of all junk to be removed. We will provide a custom quote and organise the appropriate trucks to remove your junk.
Best Price Rubbish Collection in Concord

For the CHEAPEST and BEST PRICE rubbish removal service in Concord, call Paul's Rubbish today!
INSTANT QUOTE
SAME-DAY rubbish collection
BEST PRICE rubbish removal service
10+ Years of experience
ON-TIME & ready to go!
Call us on 0407 125 125 or contact us through our online enquiry form!
Nearby suburbs we also service include Ashfield, Five Dock, Marrickville, Cabarita, Drummoyne and St Peters.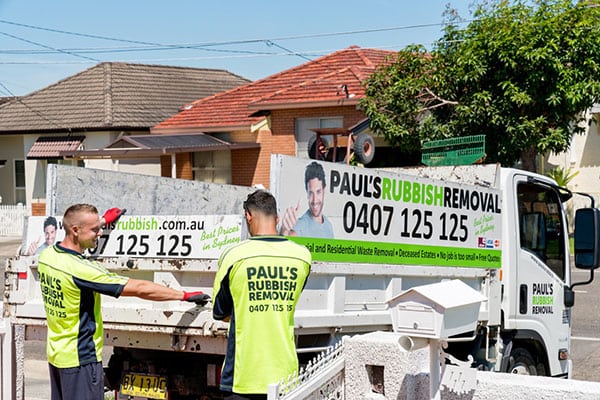 Book your service now