Balmain Rubbish Removal
Why go anywhere else in Balmain for all your garbage disposal but with Paul's Rubbish Removal! Our cheap and transparent pricing means that we are the best in the business. On top of that, our honest and strong work ethics means that you get to experience exceptional rubbish removal service across Sydney!
Are you worried your large pile of junk around the house, office, construction site or in a deceased's estate? Paul's Rubbish Removal can help! We will collect anything that you need to be removed from your life! We offer trash disposal services at outstanding rates that you will not find anywhere else in Sydney!
Quick and easy rubbish Removal in Balmain
Paul's Rubbish Removal has been in the industry for more than 10 years to provide you with excellent services for all your garbage disposals. No matter where you are located in Balmain or Sydney, our strong team members are able to arrive at your site on the same day as you call us and hand load your waste onto our massive trucks. We don't fool around when it comes to rubbish removing. We handle the business fast and hassle-free!
Best Price Rubbish Removal Balmain
Paul's Rubbish offers some of the best prices in Balmain and the entire Sydney region when it comes to complete rubbish removal solutions. We ensure all waste is recycled or removed responsibly to ensure nothing is left lying around once our team is done.
Free Rubbish Removal Quote in Balmain
For a fast and efficient rubbish removal service, call Paul's Rubbish today on 0407 125 125. We offer a free quote with all enquiries. Alternatively, with all large jobs, we can also provide a free inspection of your property before we provide a fair and upfront quote.
Common types of rubbish and waste we remove include: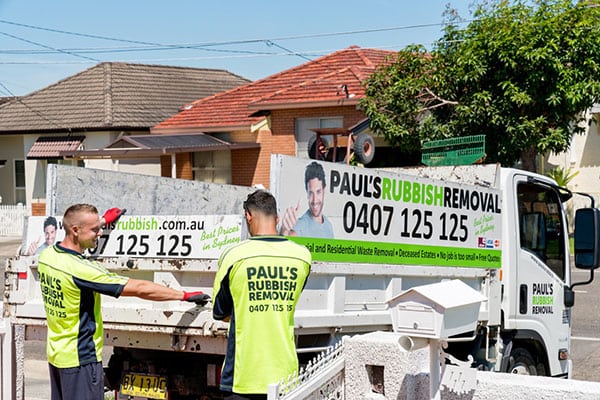 Book your service now