Enfield Rubbish, Junk & Waste Removal
Sarah Ann
2019-07-31T13:26:22+10:00
Enfield Rubbish Removal
Paul's Rubbish Enfield Rubbish Removal Services – 10 years Experience, On-Time & Cheapest Prices
Has rubbish and junk started to collect and pile up over the years? Do you want to clear out some junk and see the house clutter-free? Paul's Rubbish can help.
At Paul's Rubbish Removal, we believe a clutter-free house is the core of a happy household. Not only does a clean look appealing to the eyes, but it also frees up so much precious space, space that otherwise would be occupied by useless junk.
If you're in a need of a clean up, simply call us and let us help you make your household clutter-free!
Rubbish & Junk Removal Service in Enfield
At Paul's Rubbish, we're a fully insured team backed by over a decade of rubbish removal experience. We've been removing trash and junk in Enfield and all its surrounding suburbs, and we're confident we can do the same for.
We provide a range of rubbish collection services to suit your individual needs.
Whether you need to remove trash and waste from your home, office or commercial complex, or have hard waste removed from a construction site, we have you covered.
Best Price Rubbish Removal in Enfield – BOOK NOW
SAME-DAY rubbish removal
BEST PRICES in the entire Sydney region
Rubbish removed by a friendly and experienced team
All types of properties covered
Service to suit your schedule
FREE QUOTE for all enquiries
Book a Rubbish Removal Service in Enfield
Call Paul today and make a booking for a rubbish collection date. We'll offer you the BEST PRICE rubbish removal quote.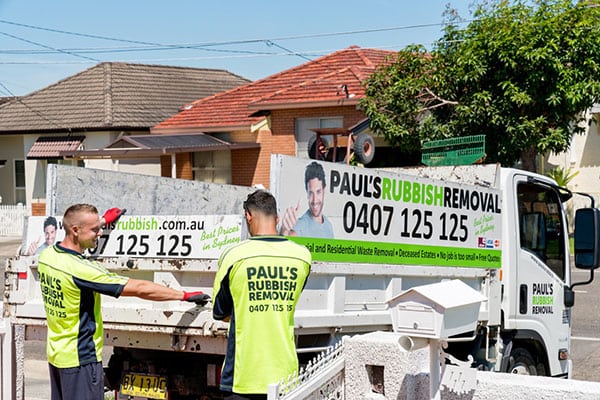 Book your service now