Waverley Rubbish, Junk & Waste Removal
Sarah Ann
2019-08-29T16:34:18+10:00
Waverley Rubbish Removal
Worried about how to remove large junk cheaply in Waverley? Contact Paul's Rubbish Removals!
We provide the cheapest rates for trash removal in Waverley and surrounding suburbs. We have been in the industry for over 10 years so we are a company that you can trust. Our incredible services such as same-day removal provide you with a peace of mind that your garbage will not be sticking around long. We want to provide you with the best rubbish disposal service throughout Sydney.
Fast Waverley Rubbish Removal
Paul and his team have done thousands of jobs across Sydney from big to small. We have developed techniques and efficient ways to best tackle your junk crisis. We will remove rubbish from any site that we can get access to. Construction sites, households, offices, gardens and deceased estates, you name it. We work 24 hours a day to provide you with convenient rubbish removal in Waverley and surrounding suburbs. We are very flexible to organise a time and date with you to attend your site and hand remove the garbage.
We Offer the Best Price Rubbish Removal Waverley
Paul's Rubbish offers some of the best prices in Waverley and the entire Sydney region when it comes to complete rubbish removal solutions. We ensure all waste is recycled or removed responsibly to ensure nothing is left lying around once our team is done.
Free Rubbish Removal Quote in Waverley
For a fast and efficient rubbish removal service, call Paul's Rubbish today on 0407 125 125. We offer a free quote with all enquiries. Alternatively, with all large jobs, we can also provide a free inspection of your property before we provide a fair and upfront quote.
Common types of rubbish and waste we remove include: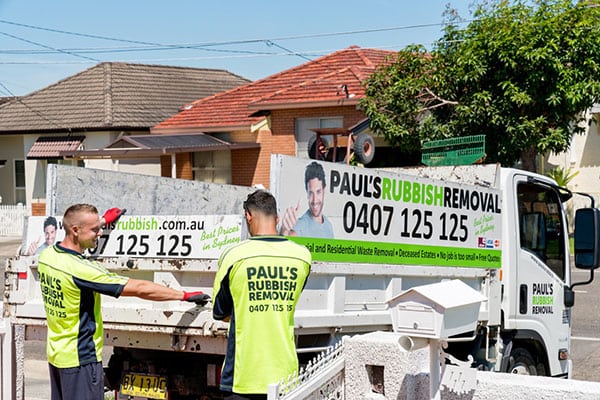 Book your service now