Cabarita Rubbish, Junk & Waste Removal
Sarah Ann
2019-07-31T14:08:14+10:00
Cabarita Rubbish Removal
Looking to get rubbish, waste or junk removed urgently? Do you reside in Cabarita and require a rubbish removalist who can provide the BEST PRICE whilst also getting your rubbish cleaned without all the fuss? Paul's Rubbish is the team to call!
Paul's Rubbish provides fast and effective rubbish removal solutions to Cabarita and all its surrounding suburbs. Our team will arrive on-time and even on the same-day should you require an emergency clean-out.
Rubbish Removal Services in Cabarita
Our rubbish removal services are affordable which means you can essentially hire us and save costs without having the trouble to hire a skip bin. Skip bins may be large and inconvenient, especially if your property is very limited on space.
Our rubbish removalists will have your property cleaned and disposed of by hand in one of our rubbish trucks. We always take care when handling waste and will always ensure the safety of your property is NEVER compromised.
Our Cabarita rubbish removal services include cleaning up some of the following:
Best Price Rubbish Removal Cabarita
Paul's Rubbish offers some of the best prices in Cabarita and the entire Sydney region when it comes to complete rubbish removal solutions. We ensure all waste if recycled or removed responsibly to ensure nothing is left lying around once our team is done.
Free Rubbish Removal Quote in Cabarita
For a fast and efficient rubbish removal service, call Paul's Rubbish today on 0407 125 125. We offer a free quote with all enquiries. Alternatively, with all large jobs we can also provide a free inspection of your property before we provide a fair and up-front quote.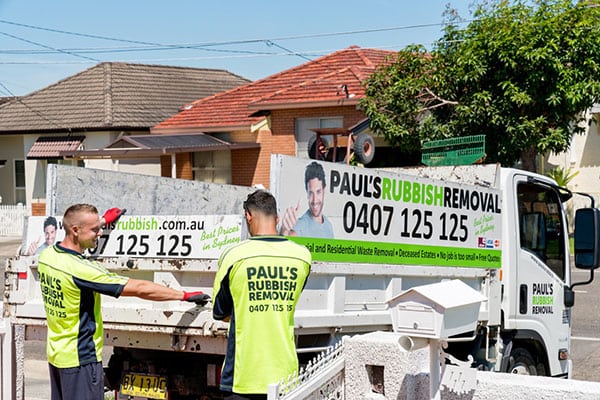 Book your service now