Banksmeadow Rubbish Removal
Is your Banksmeadow home in need of a grand rubbish collection day? Trash piling up and require urgent assistance to have it all removed? Paul's Rubbish is the team to call!
Paul's Rubbish Removal are the Banksmeadow rubbish removal specialists. Our team of highly experienced rubbish removalists are able to arrive on the same day and dispose of all your rubbish and junk efficiently.
We'll do all the heavy lifting and ensure your junk is safely handled, loaded onto our rubbish trucks and disposed of, in a safe and effective manner. No matter where you are in Banksmeadow, Paul's Rubbish can help.
Banksmeadow Rubbish Removal Services
We provide a range of services to suit all residents who reside in Banksmeadow and any of its surrounding suburbs. Whether you require rubbish removal in a residential property, small business retail shop, commercial office or a construction site, we can get the job done.
Best Price, Affordable Rubbish Removal in Banksmeadow
At Paul's Rubbish, we believe value for money is key to customer satisfaction. This is why we offer the BEST PRICE rubbish removal service to Banksmeadow and to all other regions in the Sydney metropolitan area.
We offer a cost-effective rubbish removal service that won't break the bank.
Book Paul's Rubbish Removal in Banksmeadow
When you call Paul's Rubbish, you can rest assure you're calling some of the best and brightest in the industry. We offer a range of benefits that make choosing us an absolute no-brainer. Here are just some of the advantages of calling Paul's Rubbish:
SAME-DAY rubbish removal
BEST PRICES in the entire Sydney region
Rubbish removed by a friendly and experienced team
All types of properties covered
Service to suit your schedule
FREE QUOTE for all enquiries
Call us today for an obligation-free quote on your next rubbish removal pick-up. Our number is 0407 125 125!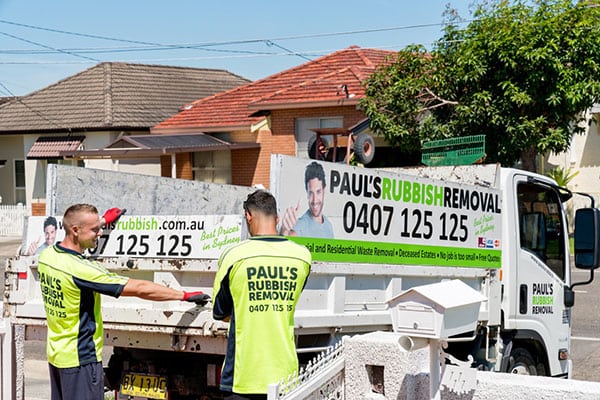 Book your service now