Kingsford Rubbish Removal
In search of a fast and reliable rubbish removalist in Kingsford? Paul's Rubbish Removal is one of the most trusted rubbish removalist in Kingsford!
Paul's Rubbish Removal have been servicing Kingsford and all its surrounding suburbs for the past 5 years. We value our impact when working with locals, this is why we've taken it upon ourselves to offer a 100% satisfaction guarantee on all our rubbish removal jobs in Kingsford and all its nearby suburbs.
Trusted Kingsford Rubbish Removal
At Paul's Rubbish, we believe in a fast and effective service. No matter how big or small our job site is, our team will ensure we apply expert knowledge and know-how in order to get your site cleaned up in the most effective manner possible.
We love working with Kingsford locals and always go above and beyond to ensure your site is left without any traces of leftover rubbish.

Rubbish Removal Services in Kingsford
Paul and the team offer 24/7 professional rubbish removal for all types of job sites. We cater to small residential properties all the way up to large demolition sites and commercial office buildings.
More importantly, our staff are experienced individuals who not only follow all OH&S regulations but we always prioritise your property to ensure our work does not affect or damage your property in any way. You can say, our removalists in Kensington do it all!
Book Paul's Rubbish Removal in Kingsford by calling 0407 125 125
For a professional and experienced rubbish removalist in Kingsford, give us a call today on 0407 125 125
Not only do we provide complete rubbish removal solutions to Kingsford, we also cater to the following nearby suburbs: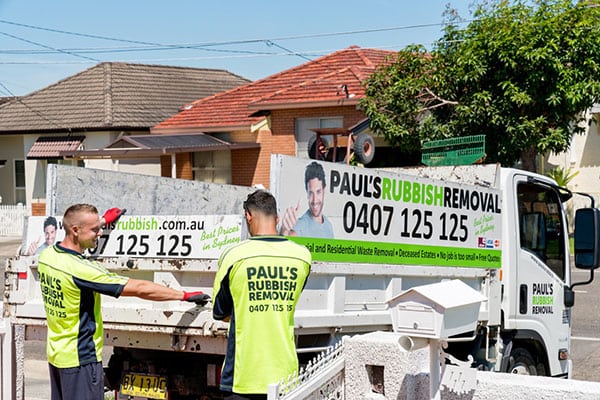 Book your service now