Bondi Rubbish Removal
Looking for an experienced, local Bondi Rubbish Removalists? Paul's Rubbish Removal will have your Bondi property rubbish-free in no time!
Do you find that rubbish is constantly been piled up in your Bondi home? Not enough room and quite embarrassed about how you've left the state of your home get to where it's currently at? Don't worry as we've most likely seen this over hundred times!
Paul's Rubbish Removals can have your home cleaned up and looking brand spanking new in no time! No matter how big or small the job, you can rely on Paul to ensure your home is completely rubbish-free.
Trusted Rubbish Removalists in Bondi
Paul's Rubbish Removal are your local Bondi rubbish removalists dedicated to ensuring your home is rubbish-free. We provide a full rubbish removal service to Bondi and all its surrounding suburbs at the BEST prices.
We're a trusted company who have worked on many large sites in the past. Whether you're looking to get your household cleaned or are after rubbish removal for busy construction sites, we can get the job done.
Rubbish Removal Service in Bondi
We provide 3 different types of rubbish solutions to Bondi and all our serviced areas. We clean residential households, construction/demolition sites and commercial/office buildings.
We offer a 100% satisfaction guarantee on all our jobs and operate 24 hours 7 days a week to cater to even the busiest of schedules. We understand our customers have very busy schedules and rubbish cleaning is the least of your worries. Let us take care of the junk while you resume with your work!
Book Paul's Rubbish Removal in Bondi by calling 0407 125 125
For a free quote on any of our rubbish removal services, call us today on 0407 125 125. One of our team members will be with you in no time!
Not only do we service Bondi, we also service the following suburbs: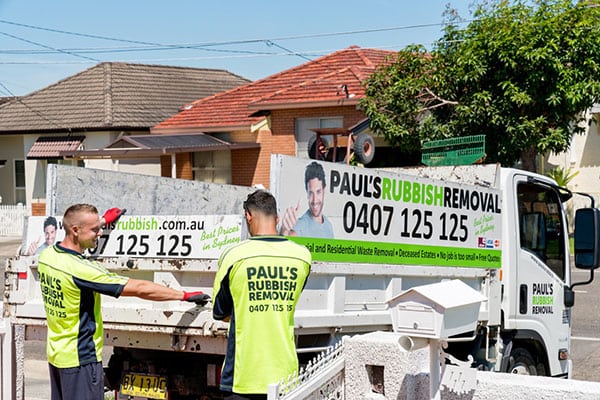 Book your service now

Frequently Asked Questions
Can I get a quote online?
Yes. You can request for a free quote online by simply filling out our online form above and we'll get back to you as fast as possible.
Is your team experienced?
Very experienced! Since our inception in 2008, there's no single rubbish removal job on Bondi that we have not been able to successfully complete. No matter what you need removed, you can bet we have the labour-force to be able to get it successfully loaded and properly disposed of.
Where does my rubbish go?
We'll have your rubbish properly disposed and recycled. We are committed to protecting our environment and take every step necessary to achieve a clean and sustainable future.
Between what hours do you collect?
At Paul's Rubbish Removal, we work day and night to collect your rubbish. So it does not matter if you want your rubbish collected even during after business hours, we will be there to get the job done.
How do I pay?
You can pay in cash or via credit card. We also accept electronic bank transfer. Please let our team know in advance so we are able to accomodate.