Eastgardens Rubbish Removal
Looking for an experienced and reliable rubbish remover in Eastgardens? Paul's Rubbish Removal are your #1 choice!
Paul's Rubbish Removal is a group of highly qualified and experienced professionals who have been providing rubbish removal services for more than ten years. We offer a wide range of rubbish removal services in Eastgardens. Our team is highly dedicated to is purpose and we are the people to call if you are in need of rubbish removal services.
Our services include:
Waste removal in demolition and construction sites
All types of junk removal
Town houses and duplexes clean ups
Offices and commercial buildings clean ups
Complete household clean ups.
We are trusted and reliable rubbish removers in Eastgardens who are dedicated to ensuring all our customers are treated with smiling faces with each and every job.
Quality and Affordable Rubbish Removal Services in Eastgardens
Providing our customers with an unmatched service is what we do best. Coupled with our competitive pricing, this make us the perfect rubbish removers in Eastgardens.
Timely Rubbish Removal Services in Eastgardens
At Paul's Rubbish Removal, we understand well that our customers run very busy lives. This is why we always arrive on-time and ready to go.
Whether you require an emergency rubbish removal service or would like to book in a clean-up over the weekend once you're free – we're here to accommodate for your needs.
Why Choose Paul's Rubbish Removal Services in Eastgardens
Group of highly qualified professionals
Discount for return customers
Quality services at affordable prices
More than ten years of experience in rubbish removal services
Available around the clock every day of the week
Free quote with all enquiries
Book a Rubbish Removal Service in Eastgardens
Timely, customer friendly, affordable and quality services are what we offer at Paul's Rubbish Removal. If you live in Eastgardens, call Paul's Rubbish today on 0407 125 125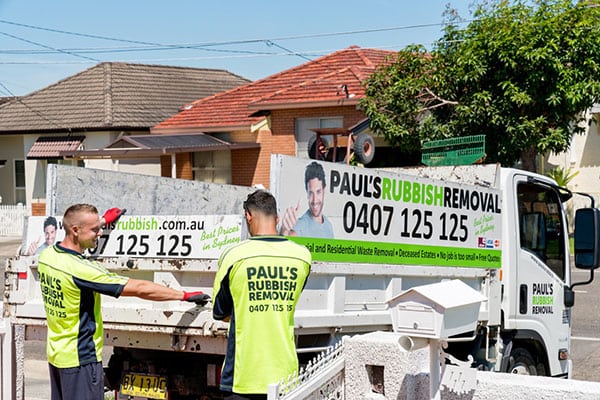 Book your service now