North Randwick Rubbish Removal
Does your North Randwick property require a clean up? Perhaps you've had excessive junk and trash lying around and have finally decided it needs to go? Call Paul's Rubbish today for a complete junk clean-up!
Paul's Rubbish Removal are your local rubbish super-heroes. We provide same-day rubbish, waste and trash pick up from your home.
When you call Paul's Rubbish Removal, we'll make it our mission to collect and dispose of your rubbish in a safe and affordable manner. We have the BEST PRICES when it comes to waste removal services, and that's right when you call us you can rest assure that you'll receive the best rubbish service for your every dollar.
North Randwick Rubbish Removal Services
Not only do we provide the BEST PRICE rubbish removal service in North Randwick, we also offer a complete range of services no matter what you require being disposed of.
We regularly collect and dispose of garbage and junk from local North Randwick small business retail shops, residential households, construction sites and more. If you need rubbish gone, we can help!
Our team have over a decade worth of the experience and are always looking for that next challenge. When you call Paul's Rubbish, you'll be greeted on-time by a smiling team. We offer a 100% happiness satisfaction guarantee on all our rubbish pick ups.
We also tidy after ourselves and ensure your rubbish or junk is removed in a safe and efficient manner.
Book Paul's Rubbish Removal in North Randwick
Don't wait until your waste problem becomes too big to tackle, call Paul's Rubbish Removal today and have it all REMOVED FOR GOOD!
Call Paul's Rubbish and receive just some of our benefits:
SAME-DAY rubbish removal
BEST PRICES in the entire Sydney region
Rubbish removed by a friendly and experienced team
All types of properties covered
NO HIDDEN fees or charges
Service to suit your schedule
FREE QUOTE for all enquiries
Call Paul's Rubbish in North Randwick today to receive a FREE QUOTE. Simply phone us today on 0407 125 125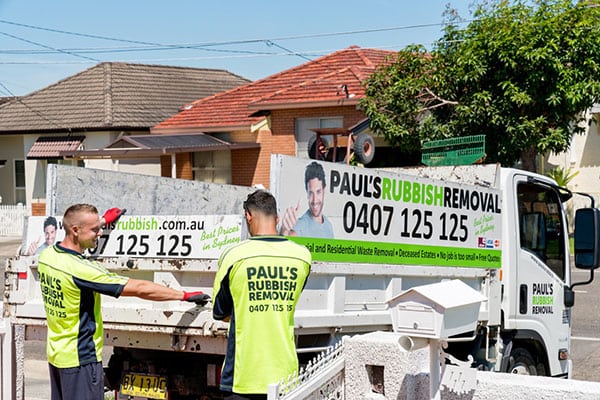 Book your service now