Bronte Rubbish Removal
Looking for a trusted rubbish removalist in Bronte? Paul's Rubbish are the professionals to call!
Rubbish often builds up without knowing it and before you know it, you're left with useless junk piled up in your property taking up precious space. Not only does rubbish take up space, but it may also attract unwanted pests and rodents. This may then lead to more headaches.
If you're in the Bronte area and require excess rubbish or junk to be removed, Paul's Rubbish Removal are here to help. We'll help you dispose of your junk in a friendly and efficient manner.
Affordable Rubbish Removal Services in Bronte
At Paul's Rubbish Removal, we're a team of professional rubbish removalists offering affordable rubbish services to all its residents. We've serviced Bronte and all its surrounding suburbs for the past decade. We understand the importance of providing a fast and efficient rubbish removal service at competitive prices.
When you call Paul's Rubbish, you're guaranteed a reliable Bronte rubbish service at the absolute best price.
Experienced & Trusted Bronte Rubbish Removal
We provide deceased estate, residential, commercial and industrial rubbish removal services in Bronte and all its surrounding suburbs.
Whether you require a same-day rubbish pick-up, we can help you. Even should you need for us to arrive at a time that suits you, we'll make the arrangements to ensure your schedule is not affected in the slightest. That's our difference, and that's our commitment to you.
Book Paul's Rubbish Removal in Bronte
Book with Paul's Rubbish Removal in Bronte today. We provide free quotations upon all online enquiries and phone calls.
Simply call us on 0407 125 125 for a free quote in Bronte today!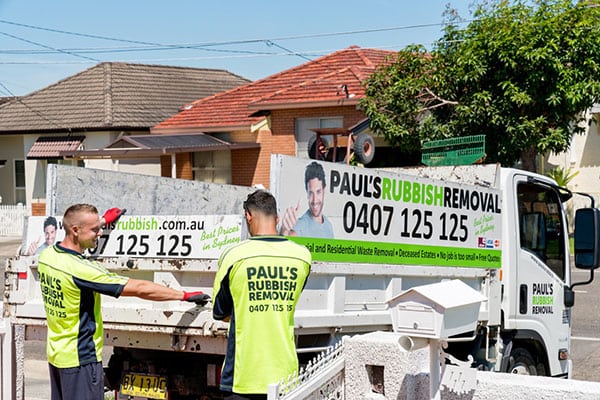 Book your service now