Wooden pallets are arguably one of the leading causes of landfill problems in the world. The number of pallets currently in circulation is estimated to be in billions, with hundreds of millions of pallets being manufactured to replace the ones that are worn out or unusable.
The pallets are mainly used by the retail industry to transport goods, after which they are dumped, hence polluting the environment. They are also highly porous, which makes them prone to infestation by insects like ants and termites. Pallets with severe cases of infestation are usually untreatable. Mild cases can be treated with chemical products and paint for reuse.
Fortunately, wooden pallets are 100% recyclable, and many people are finding innovative ways of recycling them into functional products.
If you are wondering what to do with wooden pallets, then you have come to the right place. Here are the top 10 DIY ways in which you can turn the pallets into functional furniture and décor for your home and garden.
1) Pallet Garden Bench
Use your wooden pallets to create a functional garden bench for relaxing on, after a long garden work. With inexpensive paint, you can make it look colourful and vibrant. You can also throw in some pillows, for extra comfort.
2) Pallet Swing Bed
Constructing a pallet swing bed is one of the most creative ways of putting the wooden pallets lying around your home or business to good use. The good thing is that you can easily make a pallet swing bed using simple, available tools.
3) Pallet Coffee Holder
A pallet coffee holder is a brilliant way to display some of your favourite coffee mugs. It can also serve as a great complement to your coffee bar.
4) Pallet Home Bookshelf
A DIY pallet bookshelf is undoubtedly one of the best home décor ideas for recycled pallets. It offers a great way to display your favourite books in your home. Moreover, the pallet bookshelf idea is quite flexible and works at various heights, meaning you can even install one in your kid's room.
5) DIY Pallet Plaques and Frames
Use DIY pallet plaques to display all your favourite family photos and memories. You will be able to save a lot of money, which you would have used to purchase expensive photo frames.
6) Pallet Clock
Instead of getting one of those overpriced rustic clocks from the shop, use pallet boards to make your very own clock for a fraction of the cost. The DIY pallet clock is an excellent addition to your home décor and allows you to save money too!
7) Pallet Garden Cart
A wooden pallet garden cart can be a great addition to your gardening tool kit. Use it to move seedlings from your nursery to your garden or to transport your harvest from the garden to your store. You can design the wheel out of pallet wood as well to keep costs at a minimal.
8) Pallet Fence
A sturdy fence is a must-have in your garden, especially if you have deer and rabbits roaming about. Creating a DIY fence barricade around your garden will help protect vulnerable crops such as lettuce and carrot from pests.
9) Pallet Garden Cooler
If you've had enough of your regular cooler, it is time to upgrade to a wooden pallet cooler. A gorgeous pallet cooler is a great addition to your garden and a fun way of keeping your drinks cold during your Sunday afternoon parties.
10) Pallet Patio Coffee Table
Another way you can make good use of your wooden pallets is by turning them into a patio coffee table for your garden. With a little inexpensive paint and varnish, you can transform it into a classy addition to your garden.
As you can see, there are so many great ways you can use wooden pallets to spruce up your home or garden. Most of these DIY ideas are very simple and cheap to execute.
If you are wondering how to get rid of pallet boards in your backyard or business premise, then it is advisable to seek professional help. At Paul's Rubbish Removal we will help you sort and figure out the best recycling options for your wooden pallets. We will also help you to dispose of unwanted pallets safely. We make quick junk removal easy!
Enquiry today on 0407 125 125 with one of our friendly staff members!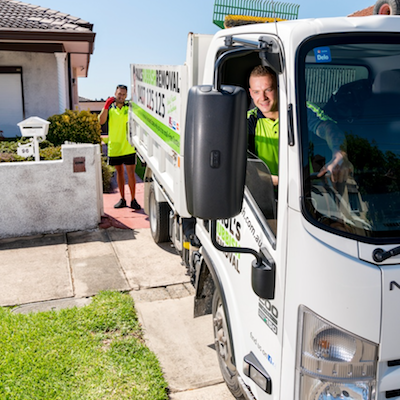 Excellent service, quote given on the spot for major clean-up of household throw-outs. The team provides quick, efficient and courteous removal! Very satisfied customer.
You guys are great, I'll happily recommend you. I just wished I had found you sooner. I felt your price was a little too low when you quoted… so I didn't think you would do such a good job… well done for proving me wrong.
Paul, sensational job as always, love how easy you make it look. Definitely won't hesitate in calling you again should either my family or friends need rubbish removed. Thanks again!