Today, the world is grappling with numerous problems. One of the biggest is the increasing waste production and improper methods of disposal. With increasing populations and spikes in waste, countries all over the world are coming up with strategies to minimise and manage their disposal of waste. This has given birth to new and innovative developments in the management and disposal fields that are likely to transform how the industry operates.
Here are 3 Waste Management Trends to keep an eye on in 2018:
Increased Legal Action
Strict laws concerning waste management, disposal, and recycling have been put in place by various cities and countries all over the world as a way to control the lingering problem. Residents are required to follow these laws, otherwise, they risk jail time or hefty fines. In countries where these laws have been implemented, the results have been incredibly promising thus far.
Banning of Plastic and Polyethylene
These materials take a very long time to biodegrade which makes proper waste disposal and management a daunting task. Besides from having a huge impact on the environment, these materials are also known to cause drainage blockages and water infiltration which leads to flooding and sewage backups in many places around the world.
Many countries have developed policies against the use of plastic and polyethene materials because of their huge impact. Most of these policies involve the banning of production, use, and importation of these materials. Take the supermarket giant Woolworths for example, they have recently become a plastic bag free store. They have introduced reusable shopping bags, which is a great way to save the environment and keep the cities clean.
Population Control
Countries and cities worldwide have realised that there is a close correlation between the increase in population and the increase in trash produced. The best and arguably the most effective solution to waste management is population control. If proper population control measures are put in place then managing and disposing of trash can become less of a problem. One of these measures is the prevention of city expansion.
Best Rubbish Removal Service Sydney
As we move forward in making innovative changes in the waste management field, ensuring proper rubbish removal in your home or office is definitely a good start. Paul's Rubbish Removal is a Sydney-based rubbish removal company that has been offering Sydney residents and surrounding areas the CHEAPEST rubbish removal rates for years.
For over 10 years, we have managed to build a solid reputation offering top-notch rubbish removal services to homes and businesses, including households, offices, building sites, retail locations, demolition sites, deceased estate cleanups and many more. Our team of professional, friendly and very courteous removalists in Sydney take great pride in their work. No job is too big or small. Whether you're looking to remove a small amount of rubbish, a complete property cleanup or want the junk in your home gone, we will get the job done right the first time.
Why Choose Paul's Rubbish Removal?
Customer satisfaction is a top priority for us and will not rest until you are 110% satisfied with our service. Paul's dedicated Rubbish Removal team work endlessly 7 days a week to haul your rubbish in Sydney.
Here are some of the reasons why you should choose Paul's Rubbish Removal services:
We have more than 10 years experience in the rubbish removal industry

Our rubbish removal services are performed by highly experienced, professional and friendly removalists

Our services are fast and reliable (we have a dedicated team of attentive staffs at the ready to respond)

We offer same-day rubbish removal – we will attend your site TODAY!

Our services are cheap and affordable

Get a FREE quote – no charge at all!

We serve the entire Sydney metropolitan area
Don't let rubbish pile up in your home or office. Let us help you get rid of it and live a comfortable, rubbish-free life. We will have your rubbish disposed of and recycled properly. We will also perform a thorough clean up to ensure that no mess is left behind.
Be sure to call Paul's Rubbish Removal in Sydney today 0407 125 125 and obtain a FREE quote.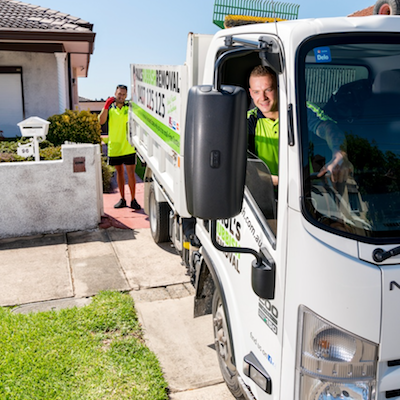 They quickly removed our heavy furniture without any hassle or questions. very professional and great customer service!
I definitely recommend choosing Paul's Rubbish Removal! They provided outstanding services and were very friendly, which was something that we did not expect! I was blown away by how quick they were able to arrive and remove the mountain of rubbish from my backyard. 5-star rating from me!
We urgently needed a clean-up service that was to be completed by 6am the next day. Paul's Rubbish Removal went out of their way to make sure that we were properly looked after and got the job done before the deadline. Many thanks!!
Wow… you guys made my life so much easier. We took a very long time searching for a good rubbish removal service in Gold Coast. So glad that we went with you guys!