Garden waste may be collected by the council in your local area. Not all areas provide this service, so if you are unsure it's advisable to check your council's website. If your garden waste is collected, you would have been provided with a garden bin or bags where you can place all your cuttings and have it collected on set days.
Most councils operate their garden waste collection during the summer months. This means all your grass cuttings, leaves, branches, hedge trimmings and weeds can be taken for recycling.
In areas where this service isn't offered or if you have more than your bags or bin can handle, you have to think about contacting a professional garden waste collection company. A waste collection company will remove your waste and give you a clean and manicured garden moving forward.
Consider a professional garden waste removal team
It is important when you clear your garden and realise you have too much waste to get in touch with a professional garden waste collection company that can arrange to come in and remove the waste for you quickly and effortlessly. While this may appear to be a disadvantage when your council already offers the service.
If they cannot remove all your garden waste in one trip, you will have to pile all those leaves and grass cuttings into your car and take it to the recycling centre; this can be a long, frustrating and expensive exercise.
Not all areas are lucky enough to have a recycling center on their doorstep. Paying a professional company to come in to remove your garden waste can work out to be a better alternative as this can save you time and money in the long run.
How to pick a removal company
The company you choose should have a stellar reputation in the area. It's advisable to go online and see which companies offer garden waste collection in your local area. This way you can learn as much as you can about the companies, getting an idea on their reputation and their service reliability.
It's always advisable to phone the company and speak to one of their representatives. This is an opportunity to identify their professionalism and their level of service. Ask them how they dispose your garden waste and the steps they take to ensure an environmentally friendly service.
Before contacting a professional garden waste collection company, you will need to identify how much waste you have. At the start of spring, chances are you will have more waste than normal as you clean out your garden after the long winter, mow the lawn, cut back the hedges and remove the weeds.
DIY Options
You could consider using a garden incinerator, but be careful. These can become exceptionally hot and can cause a lot of smoke. Ensure you tell your neighbors before you start burning but do not burn anything if you are close to a busy road.
You may also choose to start a compost heap at the end of the garden; this enables you to use some of your garden waste in your garden in the future. For the rest of the waste, call in the professionals to remove the garden waste in a safe and effective way with limited impact on the environment.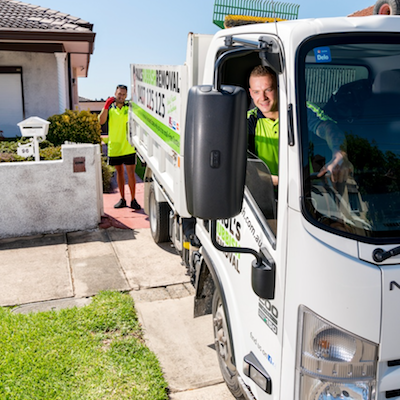 They quickly removed our heavy furniture without any hassle or questions. very professional and great customer service!
I definitely recommend choosing Paul's Rubbish Removal! They provided outstanding services and were very friendly, which was something that we did not expect! I was blown away by how quick they were able to arrive and remove the mountain of rubbish from my backyard. 5-star rating from me!
We urgently needed a clean-up service that was to be completed by 6am the next day. Paul's Rubbish Removal went out of their way to make sure that we were properly looked after and got the job done before the deadline. Many thanks!!
Wow… you guys made my life so much easier. We took a very long time searching for a good rubbish removal service in Gold Coast. So glad that we went with you guys!