Demolition work involves knocking down and dismantling a part or whole of a structure. Regardless of the structure you want to demolish, whether it is a shed, tower, building, chimney stack, storage tank or silo, demolition is one of the highest risk activities around.
Some of the risks associated with structural demolition include falling objects, disturbance of hazardous materials such as asbestos, an unplanned collapse of a structure and falls from one level to the other. Additionally, making sure that all electrical work has been unwired is very important. Plan ahead incase you may need an emergency electrician or a level 2 electrician on-site. If unplanned for, most of these risks can result in serious health problems and even death. Therefore, before starting any demolition work, it is paramount to observe safety rules. The hazards involved in demolition are similar and even exceed those that arise during construction.
Do I need a demolition license?
Before carrying out any demolition work, you need to obtain a demolition license. Your Work Health and Safety (WHS) regulator is responsible and sets standards for all the workplace safety needs. The body gives out all the permits required for any specific activity particularly demolition tasks. The licensing varies depending on the type of materials to be removed from the demolition site.
For you to get a demolition license, you need to apply and notify your WHS regulator five days prior to the day of demolition. There is a form that you should apply before getting a demolition license. Some of the requirements during the application include:
Certificate of currency for worker compensation and public liability insurance
Supervisor in charge of management
You should also choose the type of demolition work either full or restricted demolition
A demolition license is needed to fully or partially demolish a structure that is:
Between 4 and 15 metres high using any mechanical demolition equipment like a bulldozer, excavator or crane
10-15 metres high and is likely to affect the integrity of the structure
Involves explosives, floor propping, tower crane on site, or have pre-tensioned and post-tensioned structural components
Demolition safety tips
The risks surrounding demolition work vary depending on the type of structure to be knocked down. Proper planning should be done at the start to prevent potential hazards. Other safety tips you can consider include:
Substitution of manual demolition with mechanical demolition
Use of engineering controls such as fitting an open cab excavator to protect against falling objects and reduce instances of being hit by falling debris
Administrative controls like installing warning signs and setting up of exclusion zones around the demolition site. Other safety tips that can help reduce risks include the use of suitable PPE by providing demolition workers with steel caps, hard hats, visibility vests, and safety boots
Isolation – This involves using concrete barriers to separate powered mobile plants and pedestrians and reduce risks of collisions
Demolition is a procedural activity. It means more than just bringing down a structure. It involves several hazards that should be handled professionally. Paul's Rubbish Removal specialises in small demolition, residential & commercial strip outs and complete rubbish removal.
Contact us for a free quote for any of our services on 0407 125 125!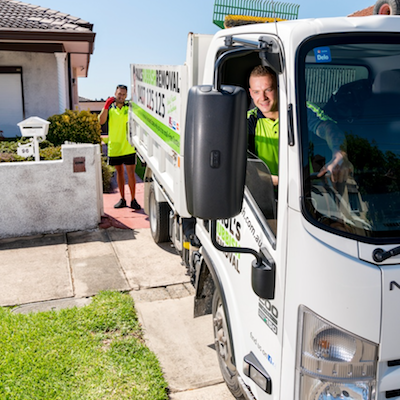 They quickly removed our heavy furniture without any hassle or questions. very professional and great customer service!
I definitely recommend choosing Paul's Rubbish Removal! They provided outstanding services and were very friendly, which was something that we did not expect! I was blown away by how quick they were able to arrive and remove the mountain of rubbish from my backyard. 5-star rating from me!
We urgently needed a clean-up service that was to be completed by 6am the next day. Paul's Rubbish Removal went out of their way to make sure that we were properly looked after and got the job done before the deadline. Many thanks!!
Wow… you guys made my life so much easier. We took a very long time searching for a good rubbish removal service in Gold Coast. So glad that we went with you guys!