Building a waste incineration facility to generate energy may seem like a great idea. It will not only help you get rid of garbage but will also help you acquire new energy source at a low cost. However, incinerating waste is a big problem. Even those pundits who promote the use of technology when handling waste agree that the best way to deal with waste is to reduce, reuse and recycle.
Incinerating waste comes with its own environmental problems. We encourage individuals and households to recycle where possible so that incinerating is not an option. In this article we are going to tell you why incinerating waste is a problem.
[The Complete Recycling Guide]
1) It creates toxic emission
One main problem of incinerating waste is that it emits toxic emissions such as dioxins, mercury and furan. In addition to that, burning plastic materials derived from fossil fuel produces nitrous oxide and carbon dioxide which plays a big role in climate change. Although modern incineration facilities use new technology that can help to reduce air pollution, the fact still remains that the process creates toxic emissions that are dangerous to the environment.
2) Burning waste does not make it go away
Most people think that when you burn waste, it disappears. However, that is not true. In addition to adding toxic emissions to the environment, a great amount of toxic ash is usually left at the bottom. If the toxic ash is not disposed of safely then it can cause huge damage to the environment. This ash can contain a high level of carcinogenic heavy metal and lead which can cause deadly long-term diseases like cancer.
3) It is expensive and inefficient
A lot of studies needs to be done before an incineration facility is established. Although in the long run, the facility may help reduce the number of landfills, the fact still remains that establishing and running an incineration facility is expensive. In addition to that, it also emits dangerous toxins that impact negatively on the environment. If you compare the benefits that it brings versus the damage that it causes, then you will realise that an incineration facility is expensive and inefficient.
4) It encourages more waste production
A recent study conducted by an independent institution revealed that incineration encourages the production of more waste. Incinerators require huge volumes of waste in order to produce energy. This has a negative impact because it encourages the production of more waste. More waste means more harmful toxins to the environment.
Instead of establishing an incineration facility, it would be better to just sort the waste into organics, recycle and reuse as well as carefully dispose of hazardous waste. If you are looking for a perfect alternative to incineration, then Paul's Rubbish Removal is here to help you. Our highly skilled team is always on standby ready to help all our customers across the Sydney metropolitan area.
We don't just collect rubbish, we dispose of them safely where they can be recycled and reused. Our main goal is to conserve the environment and that is why we use environmental friendly waste collection techniques. Don't wait, call us today at any hour of the day on 0407 125 125 for a free and fast rubbish removal quote.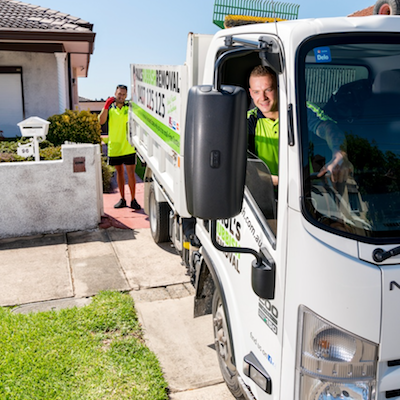 They quickly removed our heavy furniture without any hassle or questions. very professional and great customer service!
I definitely recommend choosing Paul's Rubbish Removal! They provided outstanding services and were very friendly, which was something that we did not expect! I was blown away by how quick they were able to arrive and remove the mountain of rubbish from my backyard. 5-star rating from me!
We urgently needed a clean-up service that was to be completed by 6am the next day. Paul's Rubbish Removal went out of their way to make sure that we were properly looked after and got the job done before the deadline. Many thanks!!
Wow… you guys made my life so much easier. We took a very long time searching for a good rubbish removal service in Gold Coast. So glad that we went with you guys!