House Demolition
GUARANTEE quality house demolition service!
Free Quote
Local Demolition Service
Fast & Friendly Service
10+ Years Experience
Cheapest Prices
Always On-time
House Demolition Sydney
Acquiring a lot or property is a significant milestone for families and businesses alike. However, more often than not, you may want to clear your property to build your dream home and structure. When it comes to demolishing an old house, you'd need a team of house demolition experts to take down and remove any unwanted materials.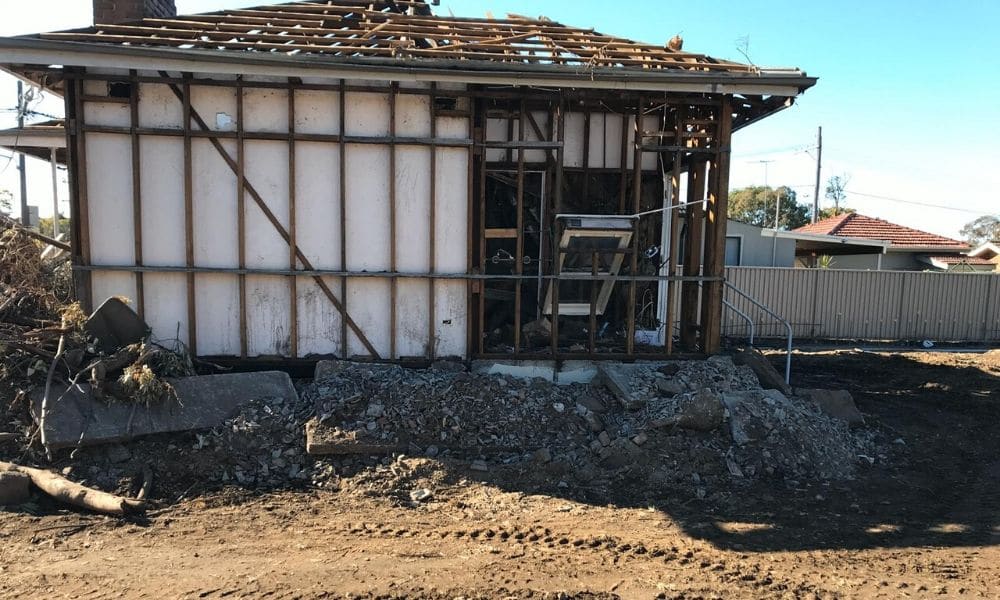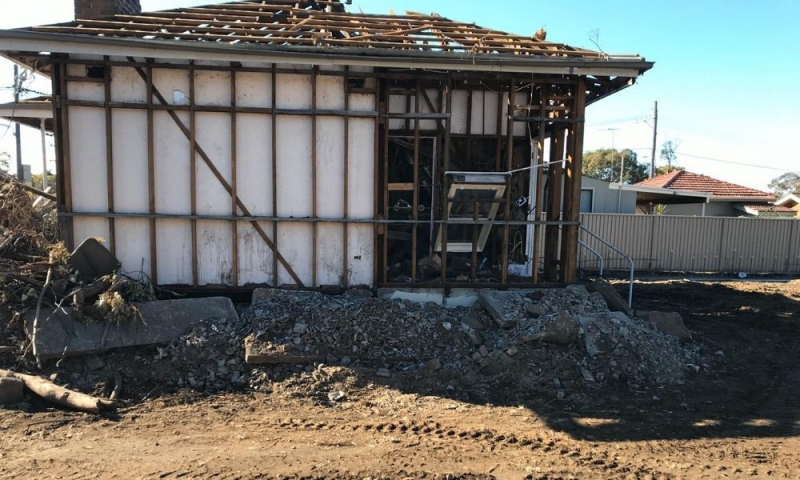 Sydney House Demolition Experts
Whether you are a property developer, builder, or a property owner, you'd need a dependable partner in house demolition. Paul's Rubbish Removal has been providing fast and efficient cleanup and demolition services for more than ten years.
Our team of professionals will accommodate large or small demolition jobs and remove all construction rubbish generated during the house demolition project. Additionally, we have the skills and equipment to clear out all structures and prepare the site for the next phase of your construction. 
Manpower For Your House Demolition
Paul's Rubbish Removal implements a bespoke method for tearing down various houses built with specific materials. Our team understands that demolishing establishments and structures may pose safety risks, that's why we will arrive in your property with the proper safety equipment and tools for every demolition job.
Furthermore, we take drastic measures to make sure that all demolition waste we produce is removed using the safest and most efficient methods available. This is because scrap metal and demolition rubbish such as concrete rubble, wood, plastic, and other waste can become hazardous if left on-site.
Fast and Efficient House Demolition Process
The sheer amount of planning and paperwork involved in a house demolition service in Sydney is only half the battle. At Paul's Rubbish Removal, we guarantee a smooth process, just give us the call, and we'll take care of the work, so you can focus on what matters.
Our house demolition and rubbish removal process comply with Australian Standards, Regulations, and Codes of Practice. We carry out every house demolition project smoothly and efficiently, using temporary fencing and safety signs for your protection.
For over ten years, Paul's Rubbish Removal have developed waste control and tailor-fit runoff measures, making sure that our team will leave the site spotless.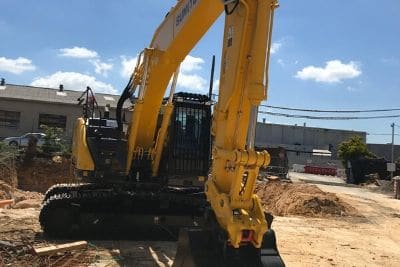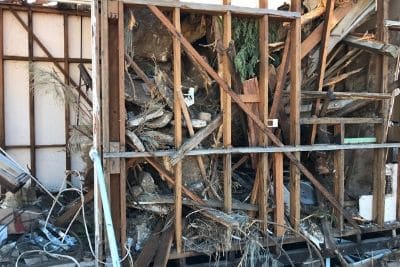 Cost-Effective and Safe House Demolition
Paul's Rubbish Removal implements a reliable house demolition process all across Sydney at an affordable and competitive cost that stands out from the rest. We value your money and property as much as you do, and our affordable demolition service provides that much-wanted peace of mind, hassle-free process, and safe environmental impact in one.
Moreover, these are the factors that influence the cost of your house demolition service:
Project Size ‒ The bigger the project, the more resources and workforce it requires

Scope of Demolition Work ‒ Whole house, partial demolition, or taking down only a small structure or facility

Materials to Demolish ‒ Stronger houses made of concrete will require more equipment and may take longer to demolish than a timber house

Presence of Hazardous Materials ‒ Removing synthetic mineral fibres and asbestos will require special equipment and protective gears to eliminate the risks involved during the process
Eco-Friendly Approach On House Demolition
Paul's Rubbish Removal work hand-in-hand with recycling and disposal facilities all around Sydney to divert as much waste from landfills as possible and recycle the salvageable materials from your house demolition.
When it comes to environmental conservation, we take every step forward to protect our home planet for future generations.
House demolition projects can become hazardous if performed poorly. Wherever you are in Sydney, Paul's Rubbish Removal will gladly take the burden out of your property. 
Paul's Rubbish Removal takes pride as one of the leading house demolition and rubbish removal services in Sydney. For an immediate house demolition service, feel free to call our friendly staff on 0407 125 125 for a free quote.
Fantastic Service, called at 10am and by 2pm the boys had quoted and completed a very large job that I had. So happy with the service, cleaned up afterwoods as well. Would highly recommend them to anyone. Fantastic.
Paul, sensational job as always, love how easy you make it look. Definitely won't hesitate in calling you again should either my family or friends need rubbish removed. Thanks again!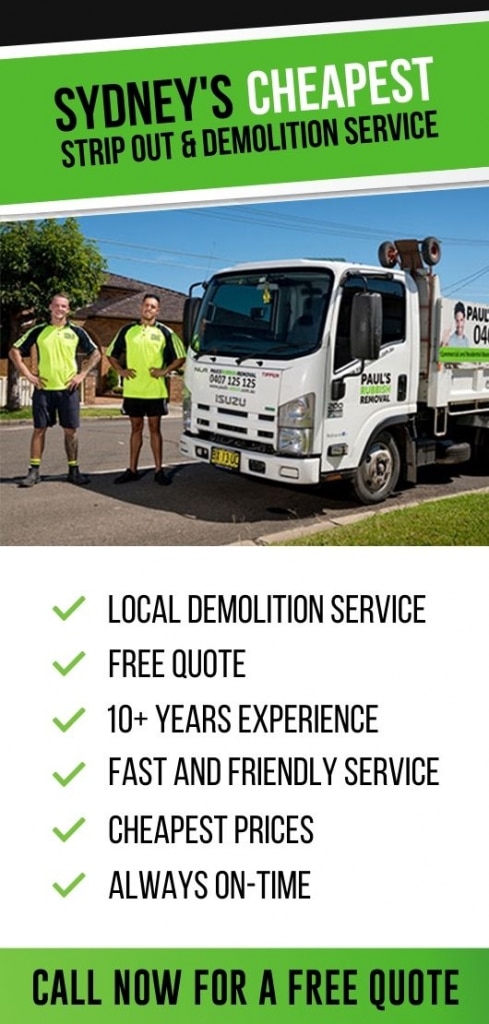 Call Paul today for a free quote!
We take it all no matter how big or small
Here's how we make house demolition a breeze
Extra discounts for returning customers
Free quote provided with all enquiries
No job is too large, small or difficult
Over 10 years experience in the trade
Quality strip out and demolition service
Cheapest prices in Sydney
Complete strip out
Office strip outs
Commercial strip outs
Bathroom strip outs
Kitchen strip outs
House strip outs