Kitchen Strip Out, Demolition and Rubbish Removal
GUARANTEE quality rubbish removal service!
Free Quote
Local Rubbish Service
Fast & Friendly Service
10+ Years Experience
Cheapest Prices
Always On-time
Kitchen Strip Out, Demolition and Rubbish Removal Sydney
Kitchen renovations are increasingly popular in Sydney due to the modern designs and features that make the space convenient, luxurious and contemporary. A kitchen is a centrepiece to any household and therefore should be presentable to guests and visitors.
If you are planning to renovate your kitchen then one of the first steps you will need to think about is a complete strip out and where to dispose of the debris and fixtures. There are a lot of things that you will need to consider when undergoing a kitchen renovation project. Luckily for you, Paul's Rubbish Removal provides the complete kitchen strip out, demolition and debris removal service.
Paul's Kitchen Strip Out
We have over 10 years of professional experience in the industry. Our team are qualified and experienced in removing all types of household items. Equipped with jackhammers, crowbars, tile stripper, hammers, drills and power tools, we'll safely strip out your kitchen from plasterboards, sinks, cabinets, appliances, faucets, flooring, ceiling, fixtures and fittings.
If there are any temporary non-fixed and non-load bearing walls or structures that need to be removed, we'll take care of it. We'll ensure that your kitchen space is completely maximised so that you can plan and design your new kitchen. We'll hand remove and disassemble any kitchen fixture and load all the demolition debris onto our truck for quick disposal. We do everything from the start to the end of your removal process.
Once everything has been stripped out and demolished in your kitchen, other contractors will be able to immediately and easily work on your plumbing and electrical services. Our clean and complete kitchen strip out and demolition provides an empty palette that will allow you to install your dream kitchen.
We understand that if you need quick and experienced strip out and demolition services for your kitchen, we are the team you can get behind. Paul's Rubbish Removal is available 24/7 and can provide you with enough resources to meet your deadlines. We work swiftly and skillfully so that the next contractors can immediately get to installing your beautiful kitchen.
Please do not hesitate to contact the strip out professionals from Paul's Rubbish Removal today on 0407 125 125!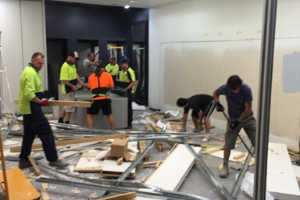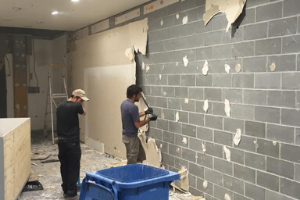 Fantastic Service, called at 10am and by 2pm the boys had quoted and completed a very large job that I had. So happy with the service, cleaned up afterwoods as well. Would highly recommend them to anyone. Fantastic.
Paul, sensational job as always, love how easy you make it look. Definitely won't hesitate in calling you again should either my family or friends need rubbish removed. Thanks again!
Frequently Asked Questions
Do you provide kitchen strip out services?
Yes. Paul's Rubbish Removal provides complete kitchen strip out, demolition and debris removal service across Sydney. Our experienced team will safely strip out and remove any items from your kitchen and load all the demolition debris onto our truck for quick disposal.
How much does a kitchen strip out cost?
The cost of our kitchen strip out service will depend on some important factors such as the size of the kitchen, location, number of personnel required and any extra services.
Do you provide your own tools for kitchen strip out?
Yes, we do. We come fully equipped with the proper tools required to completely strip out your kitchen.
Do you recycle demolition waste?
Yes, absolutely. As an environmentally conscious removal company, we do our best to recycle as much junk and waste as we can.
Can I schedule a kitchen strip out during weekends?
Yes. We pride ourselves as one of the most flexible rubbish removal companies in Sydney. Our experienced team work around the clock to offer our services 24 hours a day 7 days a week.
Call Paul today for a free quote!
We provide an end-to-end solution for house demolitions
Here's how we make rubbish removal a breeze
Extra discounts for returning customers
Free quote provided with all enquiries
No job is too large, small or difficult
Over 10 years experience in the trade
Quality rubbish removal service
Cheapest prices in Sydney
Complete rubbish clean-out
Removal of all rubbish types
Residential & commercial rubbish removal
Deceased estate cleanup and clearance
Hoarder rubbish clear out
White goods, garden waste & mattresses