Office Strip Out, Demolition and Rubbish Removal
GUARANTEE same-day rubbish removal!
Free Quote
Local Rubbish Service
Fast & Friendly Service
10+ Years Experience
Cheapest Prices
Always On-time
Office Strip Out, Small Demolition and Rubbish Removal Sydney
If you are planning to relocate or renovate your office and need the space to be completely empty, then Paul's Rubbish Removal can be of assistance. Whether you need a partial office strip out for a single office room or a complete strip out of the whole office space, we can cater according to your needs.
In the event of an office relocation, many contracts require the office space to be completely vacant for the new tenants to move in. This requires the complete removal and dismantling of office fixtures, signs, furniture, equipment etc.
Similarly, an office renovation is much easier to work from when starting from scratch. It allows you to redesign your space to maximise productivity and space according to your philosophy and desires. Each office space is different and therefore requires to be taken care of uniquely.
In addition to hand removing your unwanted office equipment and furnishing, Paul's Rubbish Removal offers office demolition services. An office demolition will allow you to expand your office space and renovate it according to the way you'd like it.
During our office strip out and demolition work, our team is exceptional in always keeping your office area clean and rubbish-free. We are constantly working to the highest quality by maintaining a safe and tidy workplace. With Paul's Rubbish Removal, we'll completely take care of your office needs.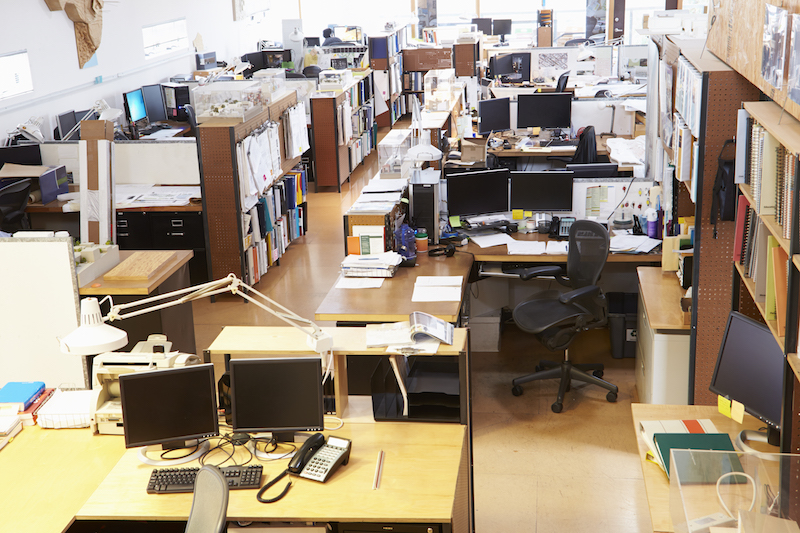 What Does an Office Strip Out Involve?
An office strip out involves the removal or dismantle of your office's interior space to the bare bones of the building. We're able to hand remove any necessary office item and dispose of it with our trucks.
Office junk can be bulky and heavy which requires the appropriate tools and resources to get the job done efficiently and safely. Paul's Rubbish Removal specialises in this and can safely dismantle any unwanted office item.
Paul's office strip out can help you get rid of:
Office furniture (chairs, tables)
Electronic equipment (office computers, photocopiers, printers, telecommunications, hard drives)
Flooring (carpet, tile, hardwood, laminate)
Partitions
Office cubicles and dividers
Electrical system (lights, dimmers, ceiling fans, cables, telephone lines)
Office fixtures (shelves, cabinets)
Air conditioner, heating units and ducting
Pipeworks (plumbing)
Office kitchen
In-built furniture
Glass (mirrors, windows)

What Does an Office Demolition Involve?
An office demolition job involves knocking down of non-temporary office structures. These include internal office walls, flooring, electrical systems, door frames, non-load bearing walls and kitchens.
Our experienced demolition workers are qualified to carry out safe demolition work at your office site. We can strip out your office space and clean up the area completely for the fit out team to easily install and build your lovely new office. At Paul's Rubbish Removal, we understand that it is important that your strip out service is dependable and executed in a professionally manner. This is because a strip out is the foundation for any office renovation or refurbishment project.
We follow strict rules and guidelines set out by the NSW government in the code of practice demolition work. This ensures the safety of our workers as well as your building's structural integrity.

Paul's Rubbish Removal Recycles!
Not only are we exceptional in our strip out and demolition service, we are also committed to preserving and protecting the environment. Paul's Rubbish Removal will recycle your office electronic items so that they do not end up polluting the environment with hazardous materials such as mercury or lead which can be found in most electronic goods. We'll handle everything from hand removing your strip out debris, all the way to collecting and disposing of it for you!
For all your office strip out, removal and demolition jobs, simply contact Paul's Rubbish Removal for superior services. With over 10 years of industry experience, you can rest easy knowing that our qualified experts can handle the job. We also provide partial and complete strip out and small demolition for residents and commercials.
We're available 24/7 to provide you with a free quote on 0407 125 125!
Fantastic Service, called at 10am and by 2pm the boys had quoted and completed a very large job that I had. So happy with the service, cleaned up afterwoods as well. Would highly recommend them to anyone. Fantastic.
Paul, sensational job as always, love how easy you make it look. Definitely won't hesitate in calling you again should either my family or friends need rubbish removed. Thanks again!
Call Paul today for a free quote!
We take it all no matter how big or small
Here's how we make rubbish collection a breeze
Extra discounts for returning customers
Free quote provided with all enquiries
No job is too large, small or difficult
Over 10 years experience in the trade
Same-day rubbish and waste collection
Cheapest prices in Sydney
Complete rubbish clean-out
Removal of all rubbish types
Residential & commercial rubbish removals
Deceased estate cleanup and clearance
Hoarder rubbish clear out
White goods, garden waste & mattresses